Burgman? Ha! Here's What A Proper Maxi-Scooter Looks Like
---
Take a look at a proper maxi-scooter, not the sorry excuses we get in India
Scooters have an undeserved reputation for being a bit slow, a bit boring and a bit feminine. To show you that this isn't always the case, we're taking a closer look at the mighty impressive Yamaha TMAX 560 - a proper maxi-scooter powered by a healthy 562cc motor.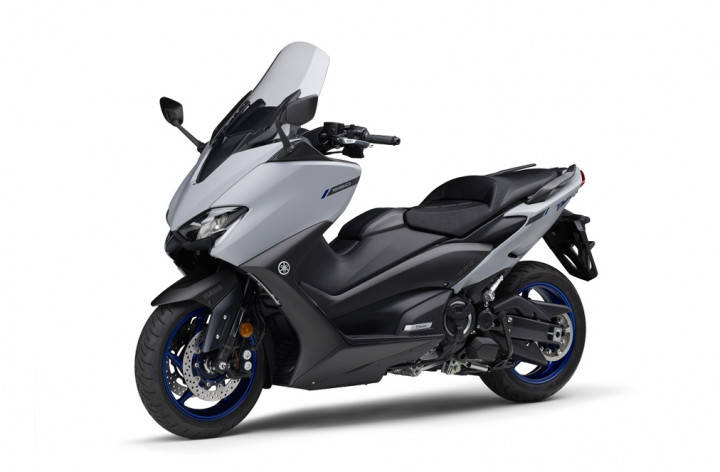 Any preconceptions you have about scooters being effeminate will be dispelled as soon as you lay eyes on the TMAX. The chunky proportions, mean fascia and large front screen give this scooter a lot of presence.

The apron is quite wide and wraps around on the sides, ensuring adequate wind protection even at the serious speeds the TMAX is capable of. It also provides the mounting point for the rather smart-looking mirrors.

The profile view shows just how long the TMAX is, and just how prominent the underbone section is. Spacious accommodation seems to be on offer, courtesy of the roomy stepped seat and long floorboard.

The tail section is where things start to get really interesting. This beefy upswept exhaust end-can is unlike anything we've seen on any scooter in India, and the bodywork doesn't include large side panels at the rear. Instead, there's a rising tail section that loosely resembles one on a motorcycle.

Come up on this baby from the rear and you'll know exactly what you're looking at, thanks to the signature 'T-shaped' tail-lamp. The rear indicators and number-plate hanger are very much like something you'd see on a motorcycle.

That exhaust end-can is needed because of this: the 562cc parallel-twin motor powering the TMAX. Yep, you read that right. A twin-cylinder scooter. Output is a healthy 47.6PS and 55.7Nm, making it more powerful and a lot torquier than the Honda CBR500R sportsbike!
Also Read: Is This The New Yamaha R25? Could It Come To India?

The motor packs in a lot of tech too. It's a DOHC unit and it even features a dry sump lubrication system. To know more about why this is special, head here. In typical scooter fashion, it drives the rear wheel via a CVT, but final drive is via a belt.

All that firepower needs to be harnessed, which is why Yamaha has employed this hefty aluminium frame. The construction of the front portion is quite similar to the twin-spar perimeter design seen on large bikes.

15-inch wheels at both ends, an upside-down fork and twin 267mm brake discs up front. Top notch stuff, this.

You get a brake disc at the rear too, and a pretty large 282mm unit at that. No single-sided swinger here, you get a double-sided unit suspended on a monoshock. Dual-channel ABS is standard.

The digi-analogue instrument cluster gets quite a smart design with a TFT insert that makes it look almost like it came from a car. Other features include keyless ignition, traction control and riding modes.
Add Your Comments
View all comments