World UFO Day 2020: 6 'Flying Cars' We'd Like In Our Garage
---
Unidentified Flying Objects are celebrated today. We pick the ones that we would like to see in our garage... erm, hangar.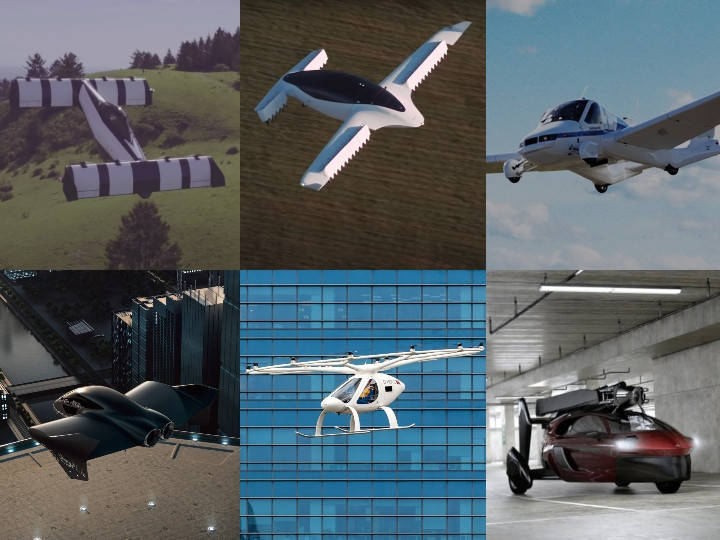 It's World UFO Day! There are some folks around the world that will celebrate this with extra zest: the ones pursuing the dream of flying cars and turning it into a reality. Now, imagine if you claimed to have a UFO in your garage! We run through some of the coolest PAVs (personal aerial vehicles, get with it!) in the making and see which would make for the perfect ride to sheeps and farmers.
Opener Blackfly

Country: Canada
Type: Electric, vertical take-off and landing (VTOL)
Max speed: 129kph+
Range: 40 miles (65km)
Weight: 142kg
Seats: One
Motors: Eight
The Opener Blackfly is one cool looking thing. Its naughtiness quotient is heightened by its single seat and ultralight design. It weighs all of 143kg. That's lighter than most motorcycles! With eight engines mounted across its two wings you can expect this to be one swoopy bird. To make things even more interesting the Blackfly is packed with conveniences that you would normally see on a drone. It gets take off and landing assist and hover mode, and cruise control too. The only downside: its 64km range and 130kmph top speed aren't very exciting. Can you imagine dropping down at the grocery store in this? Oh, yeah.
Drool rating: 5/10
If it were a car, it would be a: Bajaj Qute
Porsche Boeing "Batwing"

Country: Germany
Commercial Launch: 2025
Type: Electric, vertical take-off and landing (VTOL)
Must know: It's top secret
Seats: NA
Max speed - NA
Range: NA
Weight: NA
Seats: NA
Motors: NA
In typical Porsche fashion there's a lot that hasn't been said about the Batwing. They aren't calling it that, we are. It looks like Batman would happily rock up in one, right? Porsche, Boeing and Aurora Flight Sciences, a subsidiary of Boeing, collaborated in 2019 and since then have kept mum on any bright ideas that they may have come up with. The only thing we know about the Batwing is that it will be a "premium urban air mobility" vehicle. We can see from the lone image shared here that the blacked out vehicles sport two engines mounted at the rear of the stubby fuselage. Interestingly the Batwing is said to be capable of VTOL, which will be particularly handy as Porsche foresees its more of their well heeled clientele taking to the skies after 2025. Hopefully, the watcher ons, like us, will have more specs to drool and dream about in the near future. Go Leipzig!
Drool rating: 9/10
If it were a car, it would be a: Porsche 918? Bugatti Chiron? It's all in the family!
Lilium Jet

Country: Germany
Type: Electric, vertical take-off and landing (VTOL)
Max speed: 300kmph (done 100kmph in tests)
Range: 300km
Weight 313lbs (142kg)
Seats: Five
Motors: 36
The Jet. Not a very innovative name, is it? Lilium's personal aerial vehicle won't score marks for its name or its design. The canard up front -- yes, that is the front wing -- looks like an 80's moustache. And from some angles it looks like a bird, doesn't it? But if you take a quick look at the Lilium's promised spec sheet, you're bound to change your mind.

36 engines. Yes, 36. The Jet has 24 of them on the main wings and 12 on the canards up front. These obviously help with redundancy in case of failure, but these smaller units, set up in sets of three, also aid responsiveness and agility. These engines can be angled downwards to enable VTOL and thrust vectoring. The nacelles around each engine also act as lift generating surfaces, allowing for smaller wings.
All of this builds promises of performance. Having already hit 100kmph in its initial tests, a top speed of 300kph is now the target. It also promises a range of 300km! And it seats five. The perfect PAV - personal aerial vehicle - for the family, huh? Wonder how long the charge time would be, though.
Drool rating: 7/10
If it were a car, it would be a: Tesla Model.. Well, anything other than the CyberTruck!
Get real!
While we dream about the above mentioned PAVs, there are others that are making headway at a rapid pace and are looking to be the first to the skies right from your doorstep.
Volocopter

Country: Germany
Type: Electric, vertical take-off and landing (VTOL)
Volocopter's VoloCity might just be the PAV that we see in the real world the soonest. Citizens of Singapore have already seen it complete a test flight over the Marina Bay. But this helicopter with antlers, also called a multicopter, doesn't fan our fires quite as hard as some of the others mentioned above. Still, this is a highly developed and mature product with 100 microprocessors to help you fly safely. After all, it's Germannnn!
Drool rating: 3/10
If it were a car, it would be a: Smart ForTwo. Or not so Smart, maybe...
Terrafugia Transition

Country: USA
Type: Hybrid
Part car, part plane and fully awkward, the Terrafugia Transition won't make you go wow, but one look at it and you know exactly what it will do. Yes, it will drive down the road unlike the others in this list. Its eight motors are powered by electricity created from a turbine generator. Much like the Jaguar C-X75 was slated to be. That also makes it a hybrid, no? The company says it will be hybrid-electric when driving down the road until it can operate just on electricity. It is also plenty practical with a claimed range of 300km and a top speed of 230 kmph -- we are guessing that's while it's in the air.
Drool rating: 1/10
If it were a car, it would be a: Fiat Multipla that blended into a Pontiac Aztek
PAL-V

Country: Netherlands
Type: Twin engine, petrol
Then there is the PAL-V. We don't know when we will get to see a PAV in action here in India. But the PAL-V Libert is said to be coming our way soon. This Dutch endeavour, much like the Terrafugia TF2, can be driven down the road and then taken to the skies when required. To take to the skies it uses both its petrol-powered engines - one rotor mounted like a helicopter and the other pointing out from the rear.

On the road the Liberty can hit a claimed 160kmph with a 0-100 time of under 9 seconds. Up in the air it will do a maximum of 180kmph and packs a range of 400km. While it doesn't have VTOL abilities it can take off in about 330 metres and land in under 30 metres. Interestingly, this three-wheeler is already on sale and there are talks of testing it here in India as well. But with a seating capacity of just two, will Indian families dig it?
Drool rating: 7/10
If it were a car, it would be a: Well, it is mostly a car only, right?
Let's fly away
Indian authorities had better sort out lane discipline issues before they start handing out pilot licenses to the common man. Otherwise we better brace for some unpleasant UFO experiences. No surprise then that the land of discipline is where many PAV start-ups seem to be budding. Sadly, this also unlocks the potential of a new form of yearning for us: after German driving machines, is it time to yearn after German flying machines? Wherever they come from, I can't wait to have a UFO in my garage.
Add Your Comments