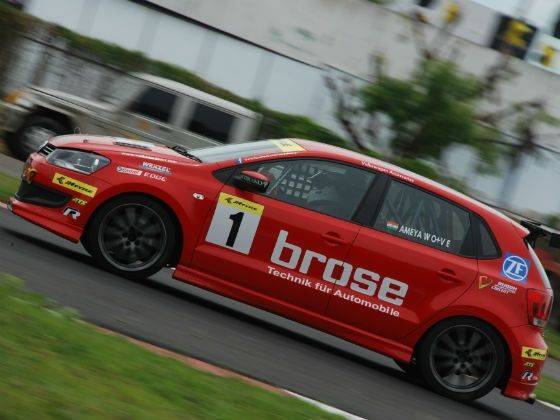 The excitement continued to grow in the 3rd round of the Volkswagen Polo R Cup 2012 at the MMRT track in Chennai. Ameya Walavalkar clocked a brilliant 2:01.037 lap to secure pole position in qualifying on Saturday. Sandeep Kumar was a close second while winner of the 2010 Polo Cup season and guest driver for the round Sailesh Bolisetti took third place.
Ameya continued his brilliant form on race day to take the chequered flag in first place in Race 1. He had a quick start and led into the first corner ahead of Sandeep and Avdumber Hede. But Yatin Magu and Alisha Abdullah collided on C2 due to which the race was red flagged. At the restart, Ameya led away from guest driver Sailesh and Sandeep. The Mumbai managed to open up a lead to finish in top spot. Avdumber and Ajay Kini finished in fourth and fifth places respectively. Donovan Vaz maintained good pace throughout the 10-lap race and jumped five places from his qualifying position to finish seventh.
Saurav Bandyopadhay started on pole with the grid reversed for Race 2, while Donovan Vaz, Mihir Dharkar and Ajay Kini secured the first two rows on the grid. Saurav started well but spun out on the first lap to hand the lead to Donovan. The Goan led all through the 10-lap race with Mihir and Ajay close on his tail. But tyre wear caused Donovan to lose the lead to Ajay. The last three laps witnessed a three-way battle between Ajay, Mihir and Ameya for the top spot. On the last corner of the final lap Ajay cut across the track to finish first, but was later penalised for a collision with Donovan which dropped him down to 12th. Mihir inherited the victory while Ameya and Sailesh took the remaining podium places.
Provisional Championship standings after Round 3 of Volkswagen Polo R Cup India 2012:
After Round 3, Ameya leads the championship with 184 points, 15 points ahead of second placed Mihir. Sandeep Kumar is a close third with 161 points. Round 4 of the VW Polo R Cup 2012 will be held at MMRT, Chennai on September 15-16.
| | | | | | | | | |
| --- | --- | --- | --- | --- | --- | --- | --- | --- |
| Pos | Name | Round 1-Race 1 | Round 1-Race 2 | Round 2-Race 1 | Round 2-Race 2 | Round 3-Race 1 | Round 3-Race 2 | Total |
| 1 | Ameya Walavalkar | 10 | 16 | 30 | 20 | 60 | 48 | 184 |
| 2 | Mihir Dharkar | 24 | 17 | 20 | 16 | 32 | 60 | 169 |
| 3 | A Sandeep Kumar | 20 | 12 | 17 | 24 | 48 | 40 | 161 |
| 4 | Avdumber Hede | 30 | 13 | 16 | 12 | 40 | 32 | 143 |
| 5 | Donovan Vaz | 11 | 11 | 14 | 30 | 30 | 30 | 126 |
| 6 | Rahil Noorani | 12 | 14 | 24 | 17 | 26 | 26 | 119 |
| 7 | Ajay Kini | 14 | 20 | DNF | 13 | 34 | 22 | 113 |
| 8 | Munjal Savla | 17 | 15 | 7 | 10 | 24 | 34 | 107 |
| 9 | Saurav Bandyopadhay | 13 | 10 | 11 | 15 | 28 | 10 | 87 |
| 10 | Anthony George | 6 | 9 | 6 | 11 | 22 | 24 | 78 |
| 11 | Prashanth Tharani Singh | 16 | 24 | DNF | 14 | 0 | 20 | 74 |
| 12 | Angad Singh Matharoo | DNF | DNS | 15 | 7 | 18 | 28 | 68 |
| 13 | Hanoosh Surapaneni | 8 | 8 | 13 | 6 | 16 | 14 | 65 |
| 14 | Alisha Abdullah | 15 | 30 | DNF | DNF | 0 | 18 | 63 |
| 15 | Mahinder Khidia | 9 | 7 | 10 | 9 | 12 | 16 | 63 |
| 16 | Niranjan Todkari | 7 | 5 | 9 | 8 | 20 | 8 | 57 |
| 17 | Siddharth Sharma | DNF | 4 | 8 | 4 | 14 | 12 | 42 |
| 18 | Yatin Magu | 5 | 6 | 12 | 5 | 0 | 0 | 28 |
| 19 | Tabish Khan | DNF | DNF | DNP | DNP | DNP | DNP | DNP |
| 20 | Diego Duez | G | G | G | G | G | G | G |