Following The XC40 SUV, Volvo Updates Entire Lineup To BS6
---
Although the XC40 lost its diesel engine to the transition, other models retain their oil burners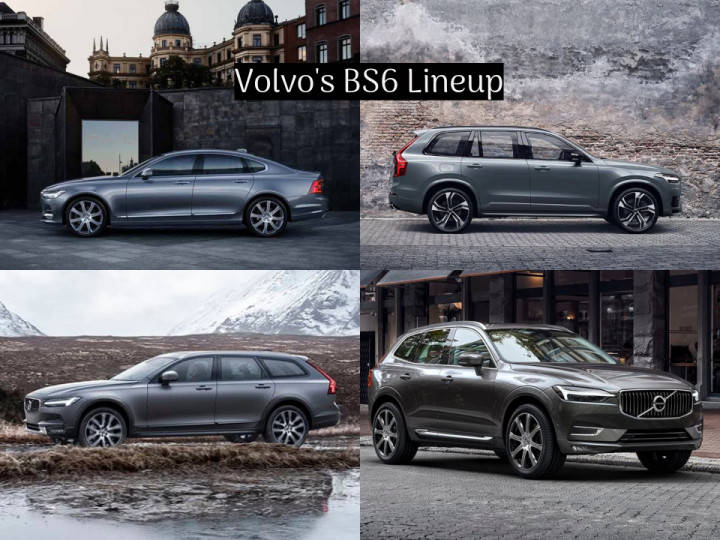 All CBU and CKD models have been certified with BS6 emissions compliance.
The XC60 SUV and S90 sedans still get diesel engine options.
Volvo says that it will not hike prices for the BS6 models until March 31, 2020.
Volvo Car India has updated its entire lineup of cars to BS6 ahead of the April 1, 2020 deadline. While the XC40 SUV is already BS6 compliant, BS6 versions of the S90 sedan, V90 Cross Country estate, XC60, and XC90 SUVs have been made available from February 2020 onwards. The BS6 models are priced similar to the outgoing BS4 cars and Volvo says that it will not hike prices until March 31, 2020. After the deadline, expect a significant increase in the prices of the BS6 models.

Previously, the carmaker had launched the BS6 XC40 with a 2.0-litre petrol engine in India. Although the XC40 lost its diesel engine in the transition to BS6, the S90, XC90, V90, and XC60 have retained their diesel powertrains. All except the XC90 have diesel-only powertrains.

Volvo has updated both the 2.0-litre petrol and diesel engines to BS6. The 2.0-litre diesel engine which makes 235PS of power and 480Nm of torque powers the V90 Cross Country, XC60, and XC90. In the S90, it is tuned for 190PS of power and 400Nm of torque. The XC90 is also available with a 407PS and 640Nm 2.0-litre petrol, while a similar engine in the XC40 was introduced with the BS6 model update.

The new BS6 engines will make sure that Volvo's model lines will continue past the April 2020 deadline. With the 2.0-litre diesel engine updated to BS6, it is possible that a diesel variant could be re-introduced to the XC40 compact luxury SUV. In addition, Volvo has discontinued the S60 sedan from its website and is likely to launch the next-generation S60 in India later this year.
Press Release:
All Volvo Cars are now BSVI certified in India
No Price increase till 31st March, 2020
New Delhi, 10th Feb 2020: Volvo Car India has successfully introduced BS VI Certified cars across its range from February 2020. All cars assembled at the plant or imported are now BS VI Certified. This comes from Volvo Car India's commitment towards providing more and more sustainable products to its esteemed customers.
"The transition from BS IV to BS VI has been challenging, especially keeping in mind the industry's performance in 2019. I am extremely proud of my team and our partners who have been relentless in making sure a smooth shift to BS VI well before the deadline. As a gesture to our customers owning an environment friendly BS VI Volvo Car this financial year, we do not have any price increase for our BS VI certified cars till 31st March 2020" said Charles Frump - Managing Director, Volvo Car India.
Add Your Comments