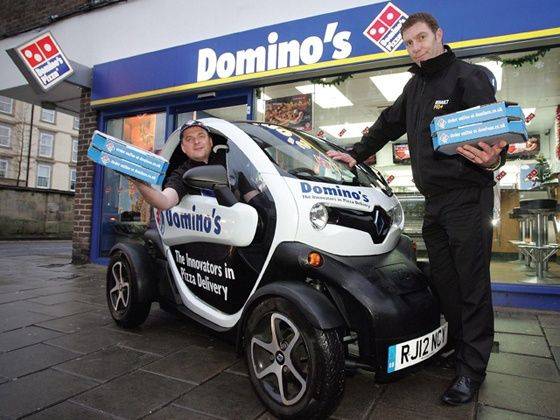 Concept cars, especially those of the all-electric kinds seldom make it from the show floor to the showroom looking identical. Even more so in the case of something as queer looking as Renault's Twizy, a much talked about battery powered city crawler that remarkably made it to the UK markets rather early last year.
Despite being already written off by sceptics as a deficient solution to urban mobility, the Twizy has managed to catch the attention of none other than Domino's pizza, whose Swindon franchisee in the UK has just made the head-turning two-seat electric compact its pizza delivery vehicle for local customers.
The super-quiet Twizy will deliver the hottest slices from the Domino's ovens until 5am all over Swindon and the surrounding areas.
Commenting on the Twizy joining the Domino's delivery fleet, James Swift, franchisee of Domino's in Swindon, said "We are extremely happy with our Twizys as for us they are the perfect run around for delivering our piping hot pizzas quickly, responsibly and most importantly with minimal running costs. They are quite a head turner too, so it creates a great buzz for us as we like to do things differently."
There are several long-term benefits for Domino's with the Twizy on its side. Reduced carbon emissions is one clear advantage, but more importantly Domino's needn't worry about road tax or fuel bills thanks to its adequate range of up to 60 miles on a single charge.
Selling in the UK for £6,690 (5.86 lakh) including VAT the Renault Twizy comes in a choice of three trim levels, namely Urban, Colour and Technic. Battery hire is available from £45 (3,945 INR) per month including VAT.