Piaggio Reverses The Tilting Trike Concept
by Gaurav
Jun 1, 2020
Views : 1575
---
It uses a single-wheel up front and a sophisticated two-wheel set up at the rear
The system promises to offer better handling and riding dynamics.
Features a shorter shaft drive and a differential.
Piaggio may already have an early prototype.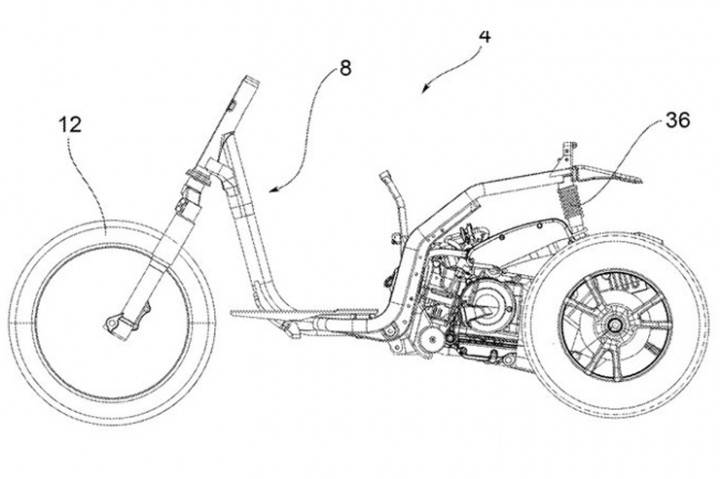 Trikes have been gaining popularity over the past couple of years. While the idea isn't exactly new, technological advancements and changes in wheel configurations have enabled manufacturers to design products that offer similar riding experiences as a convention bike or scooter. A trike basically comprises two wheels up front for better stability and a single wheel at the rear for propulsion.

Piaggio, on the other hand, intends to go back in time and take inspiration from the 1970s BSA Ariel 3 which uses a reverse trike wheel configuration. The idea may be the same as the Ariel 3, however, the technology used is more complex and promises to deliver better handling while offering the feeling of riding a conventional scooter.
To put things into perspective, Piaggio's reverse trike allows the engine and both rear wheels to lean using a complex transmission and rear axle design. In contrast, the Ariel 3 featured a pivot placed at the centre of the frame which meant the two rear wheels and the engine remained straight leaving the front end to lean into corners.
Also Read: Honda Files Patents For Its Leaning Three-wheeler

While the engine of Piaggio's reverse trike looks like a conventional motor from a scooter, it employs a shorter shaft drive which connects to a differential that runs the rear wheels. This allows the axle to remain parallel to the ground while the rest of the bike leans. A single shock absorber at the rear and a conventional front fork takes care of suspension duties.
Also Read: Yamaha's Small-Capacity 3-Wheeled Scooter Launched In Japan
The detailed patent drawings hint that the scooter is well into its initial stages of development and an early prototype could very well be on its way.
Add Your Comments