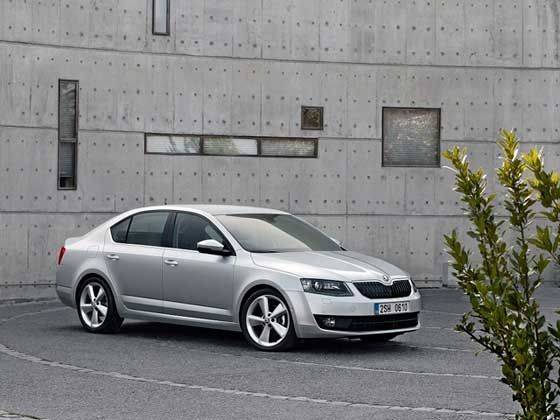 With over 3.7 million already sold, Skoda is all set to raise the stakes even higher with the all new Octavia. The Octavia kicked off Skoda's innings in the Indian market and even with a premium price tag and a barely known name proved to be a huge success in the Indian market. More importantly it set the ball rolling for Skoda as maker of affordable luxury cars.


With the new car, Skoda has just turned what was a good car even better. It's the first car to fully feature the brand's newly formulated design language. Perfect proportions, clear and cleanly modeled surfaces and sharply drawn lines combine to create an attractive overall appearance. The front end displays a new take on Skoda-typical design elements.
The new brand logo confidently stands out on the harmonically rounded front edge of the bonnet. The body's side also conveys pure emotion though a long wheelbase and a coupé-like silhouette, but also thanks to a precise and sharp tornado line creating a clear division of light and shadow. At the rear, the car's large tailgate is not merely functional, but also acts as a design element.
On the engine front, the Octavia is equipped with a total of four petrol and two diesel engines for the European market. For the Indian market expect a 1.4 TSI (from the VW Jetta petrol) and a 1.6 litre TDI unit from the Indian Rapid albeit in a different state of tune. The car also weighs a whopping 102 kg lesser than its predecessor which means the new car will be capable of some more than decent performance.

Skoda's are known to be built like tanks and the new Octavia will be no different. A comprehensive package will protect the car's occupants in case of a collision. It includes front, side and head airbags, adjustable-height 3-point safety belts with tighteners as well as headrests. The stiff body ensures excellent deformation behavior of the car in a collision.
With the company already selling 400,000 Octavia's worldwide, the new car is sure to increase the numbers. The new Octavia is expected in India by late 2013 and just like before, will continue to sell besides the Laura as well.