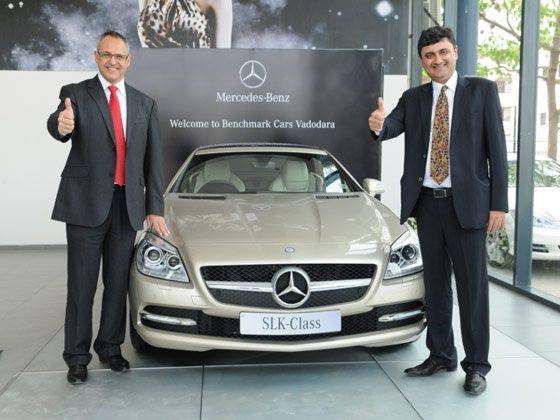 Having already sold close to 2,000 Mercedes-Benz cars till date, Benchmark Cars continues to be one of the more favoured dealers for the Three Pointed Star in India, and its new and very first showroom in the city of Vadodara, Gujarat was recently inaugurated to further strengthen that association.
Earnestly trying to spread its wings into the country's Tier II towns, the new dealership in Vadodara is a good move by the German car maker owing to the city's importance as a business hub. Located at Kalali Vadsar Road, the new Merc dealership is spread over an area of 35,000 sq.ft., carrying an investment of INR. 70 million and has been setup within a record time of 10 months.
Speaking at the inauguration of new dealership Eberhard Kern, Managing Director and CEO of Mercedes-Benz India said, "Vadodara is an important business hub; and one of the high potential cities of India. It is therefore natural for us to set-up operations here."
The workshop of Benchmark Cars Vadodara, has been built at par with the Mercedes-Benz's global standards. It boasts of a workshop having 10 bays and a workshop that can undertake general repairs and accident jobs, spares; and round the clock after sales support.
In addition, the new dealership will feature a plush Mercedes Café, an exclusive customer lounge, and other facilities for the convenience of visiting customers.
Mercedes-Benz India presently has a pan India dealership network that is spread across 33 cities with over 59 outlets. The company has aggressive plans in terms of new product launches and network expansions in 2013.