Brabus 800 Adventure XLP Is A G63 On An Even Stronger Dose Of Steroids
---
And by the way, it also comes with a high-end drone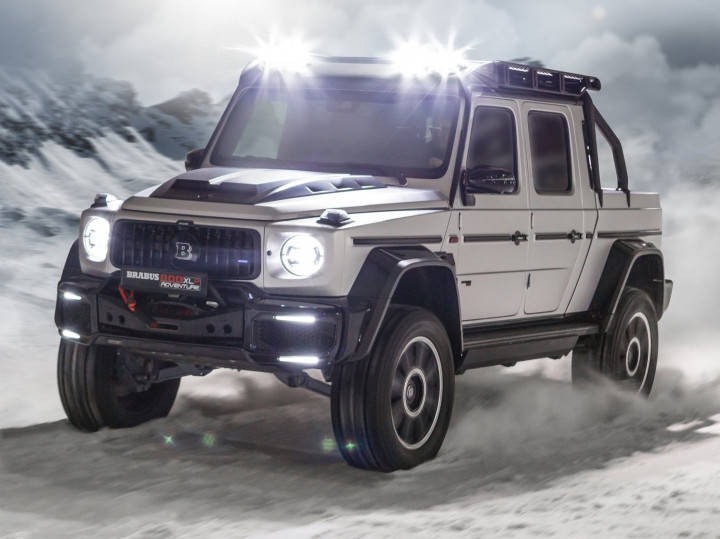 The 800 Adventure XLP is powered by a 4.0 litre V8 biturbo engine.
Output figures are rated at 800PS and 1000Nm.
It gets an impressive ground clearance of 487mm.
Brabus is offering the 800 Adventure XLP in a 'First Edition' trim priced at $627,000 (just under Rs 5 crore).
Brabus is to Mercedes-Benz what RUF is to Porsche. They are solely responsible for some of the darkest Mercedes models you see today. Now, the G63 needs no introduction. It's a brick that makes a whole lot of racket and can go anywhere and go fast, like really fast. But Brabus as usual, thinks there's room for some improvement (read: drama). Enter the Brabus 800 Adventure XLP!

Unfortunately, you can no longer buy the G 63 AMG 6×6 or its Brabus version. The new Brabus 800 Adventure XLP might just be the closest thing to the bonkers 6x6. For starters, Brabus took a standard G63, increased the wheelbase by 500mm, removed the roof from the third row, and converted it into a carbon fibre pickup area.

Speed breakers, what? The 800 Adventure XLP gets a massive ground clearance of 487mm, thanks to 22-inch monoblock rims with 325/55 Pirelli Scorpion ATR rubber and a portal axle suspension. Completing the raised stance is a Brabus Widestar body kit with side decorative parts in matte carbon fibre. Oh and it weighs just shy of 3 tonnes.

You might be wondering how 3 tonnes can be hurled with ease, right? Leave that to the 4.0 litre V8 biturbo punching out 800PS and a casual 1000Nm. Thanks to these numbers, the big brute can lift its skirt and run to 100kmph in just 4.8 seconds. Brabus specifically says the top speed is limited to 210kmph due to high centre of gravity and off-road rubber. Phew.

But, all this manliness is not carried over to the cabin. It's a different story inside where you are greeted by expensive materials, fine leather, and impressive attention to detail. All you need to know is that no matter how rough and ugly it gets out there, you will be cocooned in absolute opulence.

Brabus is offering the 800 Adventure XLP in a 'First Edition' trim, which gets a Rocket Silver matte shade and burned oak leather interior. Rocket Silver? Who in their right mind wouldn't want something with 'Rocket'. However, this isn't the party piece of the First Edition.

Wait for it… the carbon-fibre lined loading area actually houses a high-end drone! You see, the Wingcopter is not your average DJI Mavic Pro. This German-made drone can reach speeds of up to 240 kmph and can safely, even autonomously, carry equipment over distances of up to 120 kilometres. So in a nutshell, you can drive this go-anywhere off-road SUV to harsh terrains and when you halt, voila, you can pull out the drone.

All this obviously doesn't come cheap. Brabus will sell you one only if you have $627,000 (just under Rs 5 crore, excluding all taxes). Hold your horses before you put down your money. This does NOT include the uber-cool copter, which comes for an additional Rs 72 lakh over the sticker price. Now that you know the exact amount, get cracking, and happy motoring or more like happy mucking!
Also Read:
James Bond Doesn't Have To Worry About Potholes Anymore!
Forget The Tesla Cybertruck: Here Are Three Other All-Electric Trucks You Should Be Excited About
Add Your Comments