Mahindra showcases its 2012 Moto3 machine at Valencia
---
Anand Mahindra unveils Mahindra Racing's 2012 Moto3 competitor at Valencia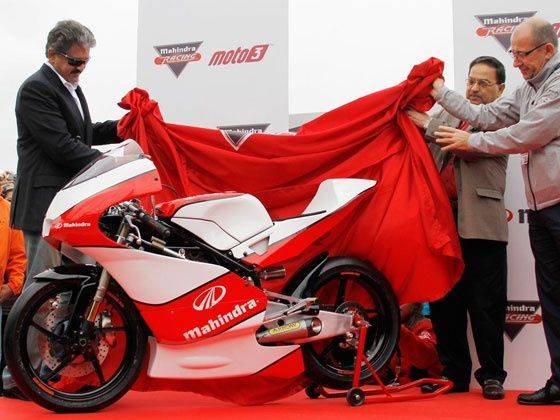 The Indian MotoGP team, Mahindra Racing took the sheets off their Moto3 competitor, the MGP30 (pronounced as three oh) on Saturday at the final round of the MotoGP world championship at Valencia, Spain. Mahindra entered the MotoGP championship in the 125cc class this season and became the first ever Indian company to enter the premier motorcycle racing series in the world. This is the last year of the 125cc class of which the very last race will be run tomorrow at the Valenica circuit. Next year onwards the 2-stroke-powered 125cc class will be replaced by 4-stroke 250cc race machines and the class will be referred to as Moto3.
The unveiling of Mahindra Racing's Moto3 race machine was done by Mahindra & Mahindra Ltd's Vice Chairman & Managing Director Anand Mahindra at the Valencia circuit in Spain. Developed jointly by Mahindra and Italy's motorcycle racing specialist firm, Engines Engineering, the Mahindra MGP30 is powered by Mahindra-homologated 250cc, 4-stroke fuel-injected single cylinder engine. The motor has been developed in union by Mahindra and Oral Moto Ltd – a joint venture between Two Wheel Design Group and Formula One racing specialists, Oral Engineering. The engine is packaged inside a tubular steel chassis while the swingarm has been crafted out of lightweight aluminium. Proudly flaunting Mahindra Racing's red and white colours, the MGP-Three-Oh will be the machine that will have a lot of hopes and dreams riding on it.
Commenting on the occasion Anand Mahindra said, "I have been watching our progress in the 125cc class all year and am now delighted to finally have the opportunity to witness the fantastic spectacle of MotoGP first hand. I am doubly pleased to be able to unveil the Mahindra Racing MGP30 in person. When the Mahindra Group sets itself a challenge, we employ ingenuity, determination and serious commitment to RISE and succeed. We have used the final year of the 125cc class to study and learn while concurrently developing our Moto3 bike in Italy. I am very proud of the achievement of our team, riders and engineers this year and very excited by the prospect of watching our wonderful new bike compete in this new class in 2012. Mahindra has made a strong commitment to MotoGP. We are here for the long term and we intend to succeed. Ladies and gentlemen, watch out! The Indians are coming.
The cherry on the cake came later in the day when Mahindra Racing's Danny Webb gave the team and India, its first ever pole position in MotoGP at the very last race of the 125cc era. With the riders find their speed and the machines getting up to competition, there is certainly no stopping the first ever Indian company to make it into MotoGP. Go Mahindra Racing!