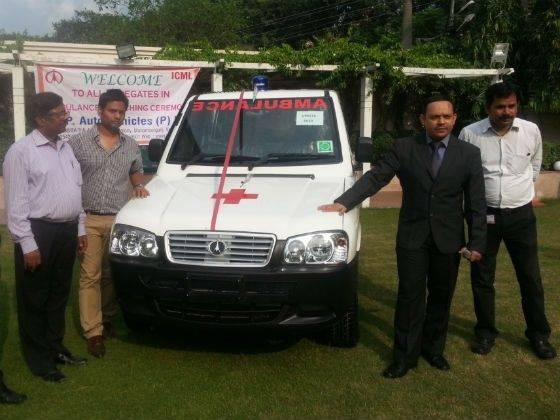 International Cars & Motors Limited (ICML), a Sonalika Group company, has launched the 'Extreme Ambulance' which will be up for sale throughout India by October 2013. The ambulance has a 4-cylinder turbocharged diesel engine developing 122PS and a top speed of 165kmph making it one of the fastest ambulances in the country!
Prices start from Rs.6.15 lakh for the base non-A/C variant going up to Rs.6.58 lakh for the top end model (all prices ex-showroom). As it turns out, it is the only ambulance in the price band of Rs. 4-8 lakh which comes equipped with an air-conditioner.
Rakesh Tiwari, Country Head, ICML said, "Ambulance has a pivotal role to play during medical emergencies. In fact, the preliminary treatment and care starts inside the ambulance and hence we have left no stone unturned by converting our ambulance into a 'Patient Carrier.' He further said, "Reliability, mileage and efficiency are the hallmarks of a well-designed ambulance. In sync with the name, our extreme ambulance is packed with all these features and much more. The attractive price coupled with innumerable features is sure to create a tremendous impact in the Indian market both in terms of sales and augmenting our market position".
To improve noise insulation, the company has fitted thicker and better quality windows and doors in the Extreme Ambulance as compared to the Rhino SUV. The ambulance has a 4+1 seating arrangement and a 50 litre fuel tank capacity to ensure minimum stoppages for refuelling. It comes well-equipped with all the paraphernalia necessary for a patient and medical personnel as well. It features a stretcher, revolving light, hook for glucose bottle, oxygen cylinder holder, a water dispenser holder and a medical box. The company also provides a 24x7 roadside assistance through a toll-free number.