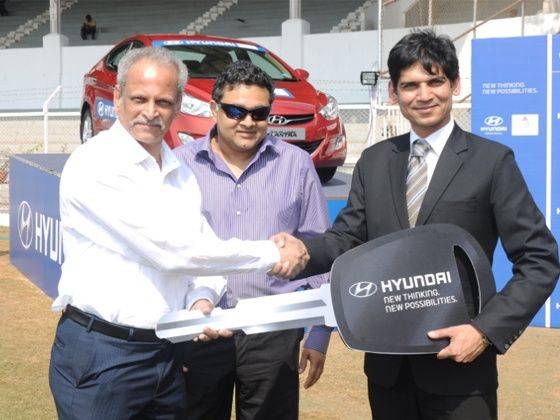 India's second largest car maker, Hyundai as the official partner of Cricket Council (ICC) from 2011 to 2015 has handed over the keys for 12 cars at the Cricket Club of India, J. N. Tata Pavillion, Brabourne Stadium in Mumbai.
The fleet of twelve cars that will be used during the tournament by ICC officials and the women's World Cup teams from participating nations consist of the Hyundai Sonata, Elantra and Verna sedans.
Nalin Kapoor, Senior General Manager and Group Head of Marketing, Hyundai, commented at the key handing over ceremony, "We are proud to be associated with ICC as an official partner and are delighted to hand over our fleet of cars. We are certain that the experiences provided by Hyundai cars, which symbolize contemporary design and cutting-edge technology will be appreciated by all. Working to build momentum towards the ICC Women's World Cup India 2013, we are confident that this tournament will be a huge success and wish the very best for all participating teams."
Hyundai India will also be promoting the IIC Women's World Cup India 2013 across its social media platforms on facebook, twitter, etc to help increase popularity and awareness of the tournament and players. Everything from World Cup trophy photos, match schedules and highlights will be shared across Hyundai's social media platforms. There will also be an additional interactive quiz to engage cricket fans online.
Even Hyundai dealers have planned various additional activities to promote the ICC Women's World Cup India 2013.
Also read: Hyundai executes steep price hike