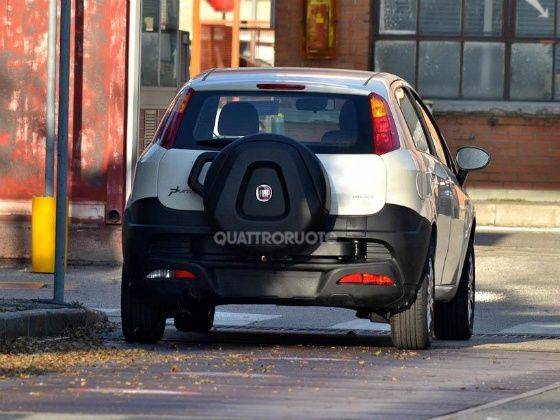 Fiat India has been on a lull recently. Apart from a few variant launches, mainly a low priced Fiat Linea Classic range and two new top-of-the-line offerings in the Linea and Punto range, the Italian giant has been sleeping dormant in India. The 2014 Indian Auto Expo may very well be the stage they need to inject some genuinely deserved enthusiasm into this underestimated brand.

The first infusion of freshness comes in the form of a crossover version of the Fiat Punto hatchback. The Fiat Punto Avventure, as it is rumoured to be called will feature typical crossover styling like the CrossPolo or the soon to be launched Etios Crossover. The Punto sports a tailgate mounted spare wheel and plastic claddings which gives it a tougher and much more outdoorsy look, that might appeal to a certin strata of society. In our opinion though, the crossover style does not really suit a design like the Punto's and would have synced better with the likes of a completely new car like the Fiat Panda for instance.

Fiat will also (finally) unleash its much-awaited Abarth brand in India by introducing the Fiat Grande Punto Abarth Evo and Fiat 500 Abarth. Although unclear on which one of the two cars will make it to India first, the Punto is what we feel we will be launched first and will be priced at the Rs 20lakh mark making it a fantastic value for money. The Fiat 500 Abarth will go up against the likes of the Mini Cooper S, both in terms of appeal and performance. Both the cars are expected to get a 1.4-litre turbocharged engine producing around 180PS. Both will also get visual upgrades including sportier bumpers and large wheels equipped with low profile tyres to differentiate between them and their standard cousins. The Abarth version also gets sportier-looking interiors with racing seats along with lower and stiffer springs suspensions.
The Fiat brand since its acquisition of the Chrysler Corporation was also slated to bring in the Jeep brand back to India. According to recent developments though both in terms of the sombre state of the economy and in terms of a declining auto industry in the country, Fiat has decided to temporarily postpone the introduction of the Jeep brand in India and defer the launch of the Jeep Grand Cherokee and the Jeep Wrangler models for a few months due to which it might not display the Jeeps at the 2014 Indian Auto Expo.