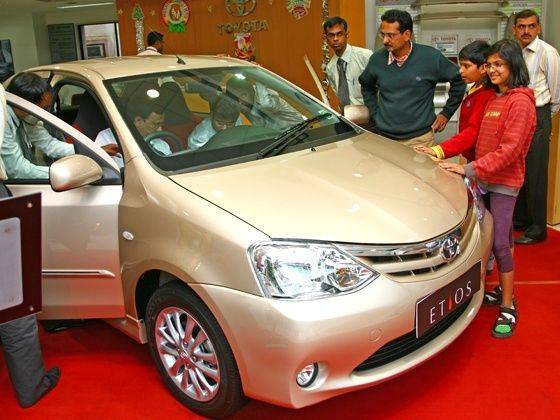 Buoyed by strong festive sales, carmakers have again created the hubbub of price hikes to increase showroom traffic and gain traction in a slowing market.
While most manufacturers blame perennial factors like rising input costs and the adverse impact of foreign exchange fluctuation, marketing experts say that announcements of price hikes are often strategic gambits to woo buyers to showrooms before the increase actually comes into effect.
"A higher price would persuade any potential customer to advance his purchase for a better bargain at older prices. It also helps in getting rid of older inventory, although with every such hike carmakers run the risk of their sales and market share getting hit in the long term," reckons Pradeep Saxena, senior vice president at market research firm's TNS Automotive.
The first off the starting grid in this round of price hikes is German luxury carmaker Audi, which has announced an average 5% increase that will be effective from the New Year; the carmaker did not share the exact revised price tags for the sedans and SUVs.
At current prices, the range starts from Rs 27.5 lakh (ex-showroom Delhi) and goes up to Rs 1.3 crore.
Michael Perschke, head Audi India, maintains that although market conditions are tough, a price hike is inevitable. "The overall market scenario is challenging.
The rise in input costs, a depreciating rupee as well as continuous increase in fuel prices have made us re-evaluate our pricing strategy in India and increase prices across the entire range. However, we are offering customers customised and innovative finance options from Audi Finance."
Paradoxically, the revised price tags come at a time when discounts are also running on a three-year high. Sluggish demand conditions have forced most carmakers, including Audi, to discount prices and offer freebies. The German automaker's vehicles carry discounts running up to Rs 2.5 lakh to Rs 4 lakh on the on-road price.
India's No 1 automaker Maruti has been offering cash discounts and incentives ranging from Rs 32,000 to Rs 50,000 on its compact cars like the Alto, WagonR, A-Star and Estilo along with free accessories and loyalty bonuses.
At the same time, the company on September 23 announced a 1-2% price hike across all models, effective from October 3, resulting in prices rising by up to Rs 5,250.
Along with Maruti, Hyundai, Honda, Toyota and BMW had announced stretched price hikes in September that were to become effective in 15 days to a month - which analysts say is a clever build-up leading into the festive period.
Car company executives insist that that price revisions on the higher side are driven not by choice but purely by market compulsions.
"Prices are determined by many factors ranging from raw material prices to foreign exchange costs to the interest rates on capital expenditure. This impacts all vehicles. And in an evolving market like India, we give a staggered price notice to adjust stocks and provide advance information to our partners to alter their pricing for customers," explains Rakesh Srivastava, Hyundai India's VP (marketing & sales).
Another car industry executive explains that in India, unlike in the developed markets, carmakers have small manufacturing plants and they cater to huge spread-out markets. While transferring vehicles from factories to dealerships may take up to 10 days, the formalities involved in selling and financing new cars also stretch up to a fortnight. Companies take into account a time-frame to address these issues before going in for a final higher price.
Also read: Hyundai hikes car prices by Rs 5,000