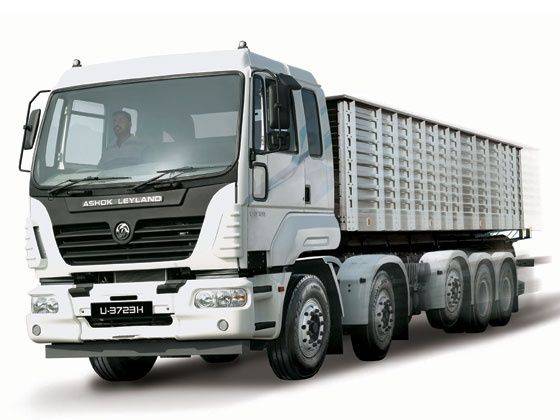 Ashok Leyland has introduced India's first 37-tonne haulage truck, the U-3723 H. The truck has a maximum payload capacity of 27-tonnes and with its contemporary U-Truck platform the truck is said to deliver superior performance, durability and best-in-class operational efficiency. The U-3723 H is best-suited for such applications like construction, Ready Mix Concrete, boom pumps and stone marble.
The feature-rich sleeper cab is designed to address driver comfort and safety especially during long distance freight operations. Other features include an optional AC and parabolic suspensions with shock absorbers.
At the launch, Mr. Vinod K Dasari, Managing Director, Ashok Leyland, said, "The U-3723 H is truly the most efficient truck in the country and carefully engineered to meet certain specific customer requirements. With a more stringent implementation of rated payload on one hand and the availability of higher loads on the other, customers have been increasingly seeking higher capacity rigid trucks that can carry more loads translating into better operational economics. Market trends are clearly skewed towards the 31+Tonne category and thus our U-3723 H is perfectly positioned to meet the demands for higher payload capacity, faster turnaround time and better maneuverability."
The U-3723 H comes with five axles in total - twin steerable front axles, two rear axles and a self-steerable pusher lift axle at the middle that enables the vehicle to carry higher loads, more efficiently. The auto-lift axle senses when the vehicle is running in an unloaded condition and will automatically lift the axle which translates into additional fuel saving. Engineered to deliver a faster turnaround and better gradeability, the U-3723 H is equipped with the fuel-efficient 225 HP 'H' Series engine and a 9-speed gearbox. Further, the 10x4 configuration makes for excellent maneuverability even in arduous operating conditions.
The aero-dynamic cab and lower unladen weight combines with an optimized drive train and 11R20 tyres further improve fuel efficiency, driveability and easy maneuverability. The deep section frames with bogie suspensions ensure better vehicle stability even at higher loads. A long loading span of 31 feet can easily take loads of any density and dimension. Strong aggregates, a robust chassis frame and suspensions reduce down-time considerably.