Suzuki Is Very Close To 'Blowing' Us Away
---
Recent patent images show further progress on the brand's much-awaited turbocharged motorcycle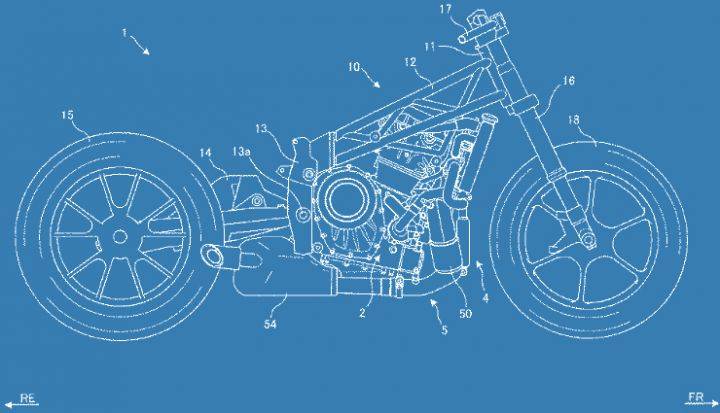 It's no secret that
Suzuki
is developing a parallel-twin turbocharged engine for an upcoming motorcycle. A recent patent filing now indicates that the bike is close to completion, with drawings of a parallel-twin turbocharged motor that looks nearly production-ready. Specifically, the patent deals with the placement of the catalytic converter.
The cat (labelled 50) is placed immediately after the turbocharger (3), which in turn is located very close to the exhaust outlets on the cylinder head. This design allows the turbo to spool up quickly without much lag and also ensures that the heat from the turbo is efficiently transferred to the catalytic converter to swiftly bring it up to operating temperature. This is imperative in order to meet ever-stricter emission norms.

The drawings also give us some idea about the motorcycle itself. We can see that a trellis frame suspended on an upside-down front fork and rear monoshock holds the bike together. The most distinctive design element in the drawings is the single-sided swingarm. The front and rear wheels feature different designs and we're not yet sure if this will translate into the production version.

The fact that Suzuki is focusing on making this engine meet emission norms indicates that it is in the final stages of development. This is good news because Suzuki's turbocharged saga has been going on for a long time now. It first unveiled the Recursion concept in 2013 with an SOHC 588cc parallel-twin motor fed by a turbocharger. Feedback was positive, so Suzuki gave the project a green light for production. The Recursion was then followed by the DOHC turbocharged XE7 concept engine, rumoured to displace 700cc, in 2015.

Since then, we have had a steady stream of patent applications that has kept us updated about the progress of the bike. This year, though, the patent filings have been few and far apart. There was also no word from Suzuki at either the Tokyo Motor Show or EICMA about any sort of turbocharged motorcycle. So with this new patent filing, we're relieved to see that Suzuki hasn't cancelled the project and is still working on bringing us a turbocharged bike.
Source: Bennetts
Add Your Comments