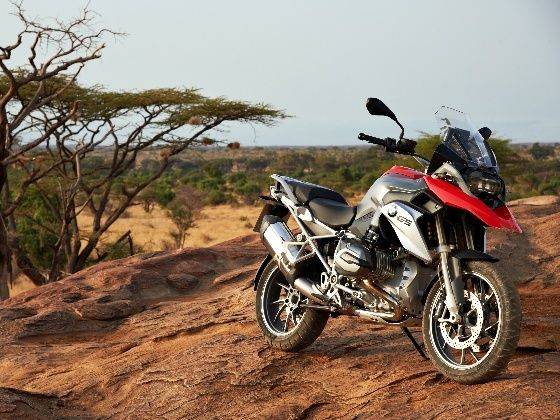 Hometown heroes of the 2012 Intermot show held in Cologne, Germany, BMW Motorrad were in full strength showcasing an all-new model of the illustrious R 1200 GS for 2013. The boxer-engined R 1200 GS has been in service for nine years and is revered as one of the most successful enduro machines in the world till date. For 2013, the new model sees some exciting changes to the machine right from worthy engine upgrades to noteworthy tweaks to the suspension, chassis as well as the overall design of the motorcycle.
While the air/liquid cooled motor employed is the same as the one on previous year's model, in its latest guise the coolant oil has been replaced by glycol-water mixture. The mixture is said to ensure a high level of heat absorption capacity of the cooling liquid for more efficient heat dissipation. Often referred to as precision cooling, the mechanism liquid cools only select few components of the engine which are particularly exposed to thermal stress, while the rest of the motor still depends upon air-cooling. Another striking change is the inclusion of wet clutch instead of the dry clutch as found on its predecessor as well as an engine housing fully integrating the 6-speed gearbox.
In its ninth generation, the BMW R 1200 GS sees a host of vital upgrades that raise the bar higher for what is already one of the finest enduro motorcycles in the world with over 1,70,000 units sold till date. Below is the list of changes and upgrades on the new 2013 BMW R 1200 GS:
• Completely newly designed engine for top-level riding dynamics within the travel enduro segment.
• Capacity 1170 cc, rated output 92 kW (125 bhp) at 7700 rpm and a maximum torque of 125 Nm at 6500 rpm.
• Cylinder heads with vertical through-flow for increased efficiency and performance.
• Compact air/water cooling for optimum heat management.
• Basic engine with compact, light and yet rigidity-optimised crankshaft.
• Vertically separated case in open deck construction.
• 6-speed gearbox integrated in engine housing, including wet clutch with anti-hopping function and reduced lever operation force.
• New intake system for optimum output and torque with 52 mm throttle valve diameter.
• E-gas for improved ridability, running smoothness and special functions.
• Innovative exhaust gas system with electronically controlled exhaust flap for optimum performance characteristics and an earthy boxer sound.
• Freely selectable riding modes "Rain", "Road", "Dynamic", "Enduro" and "Enduro Pro" with three different electromotive throttle actuator settings in conjunction with ASC (Automatic Stability Control), ABS and ASC settings for off-road riding as well as different mode-specific Dynamic ESA settings (option ex works).
• New suspension with torsionally stiff tubular steel bridge frame and bolt-on rear frame.
• Optimised lightweight cardan shaft drive now running on the left-hand side.
• Newly developed and optimised Telelever at front and EVO Paralever at rear for an even more precise ride feel.
• Refined master chassis geometry data and long swingarm for excellent traction.
• Optimised seating width and position, and adjustable handlebars for even greater comfort.
• Optimised ground reach for rider (inner leg length).
• Tyre/wheel dimensions of 120/70 R19 at front and 170/60 R17 at rear as a world first, tailored specially to the R 1200 GS.
• Revised BMW Motorrad brake system with radially mounted Brembo Monobloc brake calipers at front and 2-piston floating caliper with enlarged brake disc at rear (Ø 276mm, previously 265mm).
• BMW Motorrad Integral ABS as standard.
• Semiactive suspension Dynamic ESA (ex works option).
• Main headlight with optimised light efficiency and LED daytime running light (ex works option).
• World's first motorcycle with LED main headlight featuring integrated daytime running light (ex works option).
• New vehicle electrical system with partitioning of functions.
• Extended electric switch units.
• Electronic cruise control (ex works option).
• Preparation for navigation unit with Multi-Controller to operate the
BMW Motorrad Navigator IV (ex works option).
• Windshield with one-hand operation for excellent wind and weather protection.
• Seat with multiple adjustment functions for perfect ergonomics.
• Number plate carriers quick to dismount for off-road riding.
• Increased ground clearance (+ 8 mm)
• New instrument cluster with on-board computer as standard. PRO on-board computer as an option.
• Four main paint options to choose from – Alpine White, Racing Red, Blue Fire and Thunder Grey Metallic.