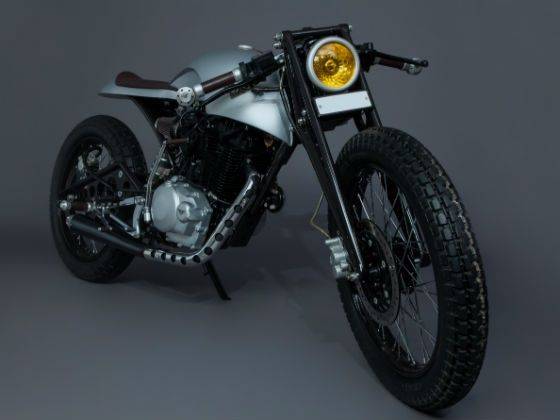 Die-hard classic motorcycle fanatics look for a stamp of individuality in their rides – a motorcycle design so unique that it has to have a strong character and personality, and looks to make it stand out amongst the crowd.
And this is where Mean Green Customs come in. With only their second bike build, the Mumbai-based custom motorcycle builders have made quite a stunning statement in the form of 'Sliver' – a custom café racer built on the Hero Karizma.
Powering Sliver is a stock 223cc Karizma engine, which makes peak power of 17.2 PS and has a top speed of about 130kmph. The engine however, is largely overshadowed by the futuristic design. From every angle, Sliver screams attitude – and it's a design which tugs at every motorcycle lover's heart.
The custom café racer started off as a thought for the designers, which soon took the form of a sketch and then became reality in the form of this stunning piece of craftsmanship. What immediately grabs attention is the futuristic design accentuated with sharp lines and unique front suspension and component detail on the motorcycle.
Designer Aditya Green says he didn't want to have the usual "common café racer tank and cowl" and opted to fabricate an altogether new design with sharp edges and aggressive curvy lines. The front suspension is a custom-made old school girder fork which employs a shock instead of conventional springs. The rear swingarm has been designed to match the overall look of the motorcycle and the front girder fork.
The result is a motorcycle with sleek lines, low slung sporty stance and an aggressive side profile look. A closer look reveals even more attention to detail this labour of love has received. The silver metallic paint on the sculpted tank and the seat cowl is contrasted by quilted brown leather in the seat pan, along with a matching leather racing stripe along the top of the tank.
What's more, the MG team designed a set of unique bar-end mirrors, inscribed with the company logo at the front and surrounded with LED lights to double up as indicator lights. The taillight and number plate are installed towards the side over the swingarm while the rear indicators are located at the tip of the footrests leaving an exposed tail below the rear cowl.
It's certainly a radical design, but one accomplished with elegance and taste, and one that certainly qualifies to find place in design award shortlists. But it's very much real and will certainly grab eyeballs and turn heads, whether cruising through city streets or even if it's just parked at the local hangout.