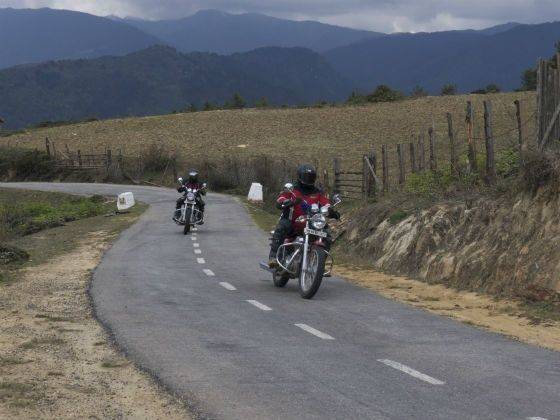 I was forwarded an invitation by Adil to go on a Royal Enfield Tour of Bhutan. I had been to Bhutan several times before and love the place, so I jumped at the opportunity. Somehow in all my biking life I had never ridden a Royal Enfield for longer than a few minutes, so this was an opportunity I was not going to miss. A few exchanges of mail with RE organiser Adarsh Saxena and all the logistics were in place. I was to ride a RE 500cc Classic.
The starting point was Siliguri. I made my way from Bagdogra airport to the West Bengal Mainak Tourist Lodge and saw it swamped by RE bikes. More than 30 bikers from Delhi, Ranchi, Bhubaneshwar, Kerala, Gujarat, Mumbai, Vizag, Hyderabad and Jharkhand were participating. It was a fantastic mix of people from different walks of life. Three riders had ridden all the way from Kerala, one from Anand, Gujarat and one from Ranchi, one from Odissa. These guys had done thousands of kilometres even before the actual tour had started! Real riders, I say! Others had shipped their bikes from their hometowns.
The RE Club of Siliguri welcomed us with a huge banner and bikes of their members parked along it. It was fascinating to see many bikes customised for long distance touring. The best out-fitted was a 350 from Ranchi of Sunil, a lawyer by profession. His bike had everything that one can imagine including two Indian flags! GPS and navigating aids were a common sight. The biker from Anand had fitted an air pump and water bottles as if he was going to encounter the driest roughest terrain. The bikes that had been ridden over 3000km to reach Siliguri were all cleaned and shiny new. The luggage was packed with unique methods. Cramster saddlebags were the most common but not having access to other makes, the innovations were really Indian. You never see such strap-ons on a tour in the west.
The first morning was spent in checking the riding gear and bikes by RE organisers Adarsh and Aakash. Then it was a trip to the team doctor, a young man from Mumbai. In the afternoon we had an introduction and a briefing of what was to come. We had two tour leaders in Sachin Chavan (GM RE) and Adarsh. Aakash looked after the maintenance end. There was a back-up with doctor, a professional tour organiser and a vehicle for the media that filmed along the way. Next day we were off to Darjeeling, the first leg, in a roar that can only be created by thumpers.
The roads were just okay. I was shocked. I have been on these West Bengal roads every decade since 1960 and they are still pathetic! A few stretches through the tea gardens were good and seemed like a dream. Darjeeling, like most of our hill stations is overcrowded, dirty and uncared for. Just the mall area has any semblance left of what it must have been. My room-mate was a professor from Hyderabad IIT. We took a stroll in the evening that was not at all inspiring. This is the legacy of middle class tourists, wherever they (we) go.
Every morning started with a briefing by Adarsh of what we should expect, followed by an elementary discussion on riding and bike control by Sachin. Leaving Darjeeling the road was extremely steep downhill which meant many burnt their rear brakes. This was followed by some of the worst mountain roads on this planet! To top it all the dry dust swallowed all of us. But the last 30km to Yoksum, Sikkim was one of the best stretches of the tour.
To write about each day of the tour would take up a small book. The general impression of the tour was that it was very well recced. The spots and hotels chosen for stay were very comfortable and clean, with good food and cheap for those who liked a drink after a hard day's riding, which was almost everyone. The day would begin with a briefing on the roads and meeting point, plus Sachin's riding/bike control tips. We had to fend for lunch but dinner was provided by RE if there were no restaurants around.
Bhutan is one of the last countries in the world ruled by a forward looking benevolent monarchy. The population is around seven lakh and the main income is from export of power. With its mountains and a large number of rivers, Bhutan exports huge amounts of electricity. It is a protectorate of India and has very friendly relations unlike other neighbouring states. Tourism is kept at a minimum, high end low volume and Gross National Happiness is more important than any GDP. We traveled through west southern Bhutan into Thimpu and across the country to the far east and exited south east into Assam. To put it simply, it was a trip of a life time for me.
The bike given to me was a brand new 500 Classic. What can the Bullet be compared to? There is nothing made in India that is like it! So, like an icon it stands on its own. The good things first. The bike handled well all through the bad roads. The front and rear suspension, and the steering bearing never gave way. It has a tractor like torque and there was no situation or terrain it could not handle. This was a real surprise for me. Put it in second gear, open the throttle and you are off! But the riding position didn't suit me at all. The footpegs are too far forward for the flat handlebar. The gas tank leaked constantly. Instead of smelling the beautiful air I was nauseous with the smell of gas. The front disc is good but not good enough for the weight. My bike vibrated over 80km/h so much that I couldn't see a thing in the rear-view mirrors. Some bikes had broken cables, chain adjustments were needed every day, meters kept getting loose, and it kept slipping out of 4th gear and felt under geared for the power it had... not acceptable for a bike manufactured in 2012.
I spoke to almost every rider who owns a RE bike. The pride of ownership of this marque is so deep rooted that all faults are overlooked. Other than the modifications some riders had made, any suggestions made were taken as criticism and rejected right away. In some sense this is ignorance of today's technology. I had a 1986 pushrod 500cc Honda that had 4-valves-per-cylinder and revved to 10,500rpm. Even if the bike has to remain in its pushrod format the progress all around has left the RE standing still in a time warp. The RE in England had many model trims but here nothing has changed. RE did try and make smaller bikes that failed, but variations of the 350 theme were not tried enough. Now a Club Mans model is coming out but unless the power is increased substantially it will mean very little. But at the moment RE is over booked and the company doing well. So who is to say? But this is the time for intense R&D and to come out with models that are seriously modern in technology, and remain vintage if they still want to.