Dainese is an Italian company which has been the business of manufacturing protective wear for bikers since 1972. Earlier this year they launched the airbag equipped D-air street racing suit for bike racers. Now, the company is ready to launch the road going version of its D-air Street which will be on sale from the spring of 2012.
D-air Street has been designed for on-road use. The product comes in the form of a motorcycle waist coat or jacket with airbags in them. There is also a kit which Motorcycle Kit (MKit) that comes along with it. The MKit comes with a host of sensors and has to be fitted to the motorcycle. The MKit comes with two accelerometers, one mounted under the seat and one on the front forks. A sensor on the dash also shows the rider system information. The jacket houses two airbags, each with a volume of 12 litres. There are also two automotive-type cold gas generators run by battery powered electrics (with an average life of 30 hours with a five hour charging time).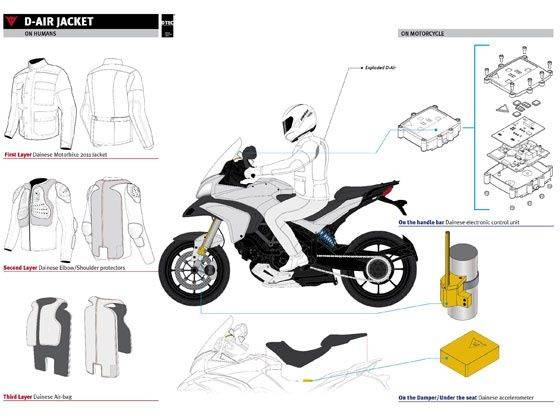 The jacket has been designed to protect the spine, upper abdomen and chest. There is a back projector which limits movement of the neck while rolling, the system also protects the upper abdomen and chest in the event of a crash. The unit automatically starts when the ignition is switched on, the MKit then communicates via a two way radio waves with the airbags. Once the airbags are detected, the condition is signalled to the driver via the display unit which also shows the battery condition.
The system is set to identify head on collisions and 45 degree angle impact or slide. Once the system detects something of the nature it triggers the airbags which deploy within 45 milliseconds so as to protect the reader in the event of an impact.
As for pillion passengers there is the D-air Street garment which is a similar jacket and the MKit system will detect the second jacket and will display its status on the MKit display unit.
The D-air Street range of protective wear is available as an outer waistcoat, a gore-tex jacket, and a textile jacket with removable sleeves. All garments can also be fitted with a back protector, removable shoulder and elbow protection. Other standard features include thermal liners, detachable outside pockets and adjustable waistbands.
Once the D-air Street range of biker protective wear is out in the market it will make motorcycling on a day to day level much safer by reducing the risk of injury.