Federal-Mogul Corporation has developed a highly innovative Advanced Corona Ignition System (ACIS) for spark plugs, the result is increased fuel consumption and lower emissions. The new ACIS spark plugs are undergoing further development with several customers, they have lowered fuel consumption by 10% over standard spark plugs. The trick is done by a corona discharge ignition which creates a significantly higher intensity plasma ignition source which spreads more evenly throughout the combustion chamber. ACIS allows more thorough combustion and allows advanced combustion strategies like lean burn, highly diluted mixtures and high exhaust gas recirculation (EGR) which helps cut down exhaust gas emissions significantly.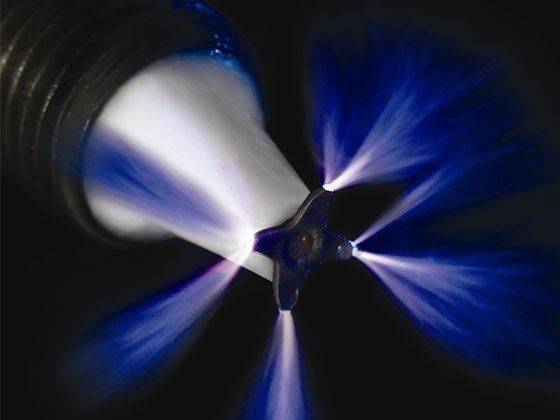 Kristapher Mixell, Federal-Mogul's director, said, "We have already recorded fuel consumption improvements of up to 10 percent on a 1.6-liter turbocharged gasoline direct injection engine, and there is potential for further improvements. The technology enables powertrain engineers to more efficiently develop combustion strategies, such as stratified charge, lean burn and high levels of EGR, to reduce fuel consumption exhaust emissions."
ACIS uses a high energy, high frequency electrical field to produce repeatable and controlled ionisation, creating multiple streams of ions to ignite the fuel/air mixture throughout the combustion chamber rather than creating a small arc between the electrodes of a regular spark plug. ACIS generates rapid ignition and quick burning, ensuring greater conversion of fuel energy to mechanical energy. The new system also allows reduction in engine cooling requirements due to lower combustion temperatures.
"Federal-Mogul's new corona discharge ignition is a breakthrough innovation that can offer significant fuel economy gains and emission reductions at a lower incremental cost than other technologies. Our Advanced Corona Ignition System is another example of Federal-Mogul's commitment to developing leading technology and innovation to support vehicle manufacturers with regulatory compliance and customer satisfaction for energy efficiency, environmental responsibility and vehicle safety enhancements," said Federal-Mogul President and CEO José Maria Alapont.
The Advanced Corona Ignition System has been optimised for ease of use in high volume ease of applications in both current and future powertrain architectures as ACIS has the same dimensions as a regular spark-ignition system.