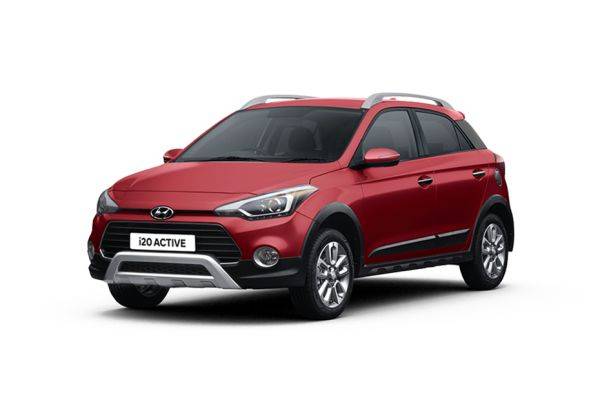 Hyundai i20 Active
Rs. 6.66 Lakh
Discontinued Model since 18 Mar 2020
---
About Hyundai i20 Active
The Hyundai i20 Active was probably the first cross-hatch that made its segment popular. Launched back in 2015, it is still one of the best in the segment and strikes a sweet balance between being more bad road-capable and everyday driveability. Hyundai has constantly been updating it from time to time, so it has all the bells and whistles you expect of a modern car. However, the new facelift-based i20 Active should be here around the end of the year and is eagerly awaited.
Hyundai i20 Active Overview
Hyundai has updated the Elite i20 to BS6. Only the 1.2-litre petrol engine has been updated, and all variants are pricier by Rs 7,000. The 1.4-litre diesel will eventually be discontinued since it has not been updated for the upcoming BS6 emissions. Power figures are likely to remain unchanged, as are the 5-speed manual and CVT transmissions. The updated model now costs between Rs 5.60 lakh and Rs 9.21 lakh (ex-showroom Delhi).
Hyundai i20 Active Colours
Polar White With Phantom Black
Must Read Questions & Answers Before Buying i20 Active
Q. Compare between Maruti Suzuki Swift and Hyundai i20?
I20 in petrol and diesel with many variants and s sport model..with all safety features is the choice..if possible elite i20 asta is a good choice..swift is having less road grip ..less safe so its i20 all the way..new model alerts are there with new interiors and a pop up touch screen..
Hyundai i 20 is far more safe, has more comfort, ambience & bells & whistles than the swift. Go for latest version of I 20. Maruti plays uncle scoorge & compromises on all, in the name of cost cutting, except for tuning the engine to extract higher mileage per kmpl of fuel.
I20 much better
View All Answers
View More Questions
Q. which one is better,elite i20 or i20 active?
Difficult to answer as Hyundai changes variants drops some in between...re introduce...with minimal changes among variants...buy a petrol for short distances gives average 15 to 17 km/litre in cities.Diesel 1.4 crde gives you about 20Skms/litre.good for highways..second which modeli20 active in3 petrol variants...if petrol go for sx 6 airbags all features....if i20 elite asta top end petrol all features 6 airbags. Elite is slightly shorter and..less ground clearance less weight less so more mileage ...do decision depends on ground clearance..and dimensions..... elite i20 diesel its all the same asta top end all features with 6 air bags.Active i20 has same with good ground clearance.......So if you need a premium hatch with all features and safety mileage smaller dimension for relatively good roads select i20 elite (12 variants including sportz which has 2 airbags and no child seat option..)...automatic trim only in elite i20...sooo....select one from12 variants preferably magna manual or automatic/petrol or diesel from elite i20..(hoooo).get the small lettered variant wise list from sales person !!.wish you a happy purchase.thanks .....caution--top trims cost 10 lac approx .
Go for an i20 if you do not worry about having high maintainence after purchasing it. So my elite is 4 years old and driven 20k only and one fine day the ac stopped working . and now when i had it checked at the showroom they told me that the compressor needs to be changed. it will cost around 20 -23 thousand . had it checked at the local shop ,he tild me the same peoblem but solution was either change ac or some jugaad (temporary). and he told me that this problem is there in the i 20 since the first gen.i checked on the internet and found iut many had faced this problemworst ac parts in i20.
Active has more ground clearance thats significant difference I guess, rest both are same in my opinion (exclusing very minor differences). If you plan to keep car for more than 4-5 years then will suggest to go for Baleno or Polo. I am getting high maintenance after 4 years for my elite i20.
View All Answers
Q. What is the difference between i20 elite and i20 active?
Elite i20 is a hatchback while i20 active is a crossover , both have same engine, active has slightly more ground clearance and body cladding
Active has. More ground clearance. More rugdly build. Hard roof. Bigger tires. More power. Less fuel efficient
Diff is active have spotty look and alloy wheels and inch of wheels diff few feature diff elite or i20 active
View All Answers
View More Questions
All i20 Active Questions and Answers
5.0

Marvelous driving experience.Comfort label is alsow superb as thinking about any other car about this range.Safety features are very important.And it's saftey make me more satisfying then other car.Over all whole experience of this car is excellent.

4.3

This car is very good, Comfort stylish spotty look luxury feeling driving experience is very good ground clearance 190 best in segments 16 inches alloy very good looking tire profile is very good light handling clutch gear break reverse parking camera very helpful best in car in cross over hatchback segment

4.3

Very comfortable driving experience.Loads of features in this category like bluetooth connectivity and reverse camera makes the driving easy.Rear seat folding 40-60 makes additional space for putting additional stuff occasionally.All in love, I'm loving it !!.

4.0

A top rated car at the time of purchase.A little outdated now.It's a wonder why hyundai didn't promote this model instead of bringing out venue.

2.7

Best view is it's ground clearance, Outlook is good, Inside space is sufficient, Music system is okay
All User Reviews
4.3

I own 2015 diesel i20 active drove 122000 as on date, if you need an hatchback with super good suspension, ground clearance and smooth engine just go for it ! Pros1)Suspension and ground clearance is super good, it has got 190mm ground clearance you can easily glide over bad and patchy roads even on tall big speed breakers with ease. 2)Comfort, it is freeking awesome 3)Good seats for long journey trust me I"m a daily highway commuter 70% of km of my car is on highway 4)Mileage on highway 18-19kmpl, city 16-17 kmpl5)Ac cools fast, it also got air vents at the back6)Good instrument cluster7)Powerful and super smooth engine 8)Lite clutch9)Wide tyres with R16 alloys Cons1)Lifeless steering, it is so lite that you can even move with your pinky finger2)Spongy brakes the abs kicks in lately3)Wipers aren"t big enough for such a big windscreen4)bumper and other fiber parts used for exterior body are not of a good quality

4.7

If you are looking for a car that is safe, performs like a pro, comfortable, with modern styling and all segment breaking creature comforts - Pls go ahead and buy i20 Active. Been driving it for the past 4 years - one heck of a Car when it comes to the highways, fun to driver and safe too. But if mileage is your number one priority, you might have to look elsewhere

4.7

My car never let me down, be it torque, top speed, higher ground clearance, rear ac vent, tilt-telescope steering adjustment, cooled glove box, automatic climate control, auto headlights, smart key less entry, gps, diamond cut alloys, steering turning head lights, commutative reverse camera. All in all I would say best premium hatch back in India under 10 lakhs.

4.0

I owned i20 active SX (P) last year, 2018 face lift and driven 15000 km. Pros are the superb riding quality, comfort, cooling, music with 4+4 speakers, light steering, strong built body and easy shifting of gears. Cons are the fuel consumption which is about 8-9 kmpl in the city and 14-15 kmpl on highways while in AC on condition. The visual quality of cladding on external parts is poor as it looks faded black color but is strong. Important features lack on the top model too as break assist, distance to empty, traction control, average/ instantaneous fuel consumption etc. However the featured car i am satisfied with.

4.3

This car is very good, Comfort stylish spotty look luxury feeling driving experience is very good ground clearance 190 best in segments 16 inches alloy very good looking tire profile is very good light handling clutch gear break reverse parking camera very helpful best in car in cross over hatchback segment
All User Reviews
Hyundai i20 Active Expert Reviews
Hyundai i20 Active Images & Videos