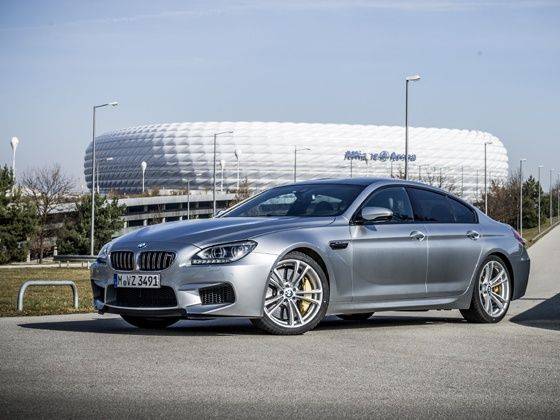 The BMW M6 Gran Coupe that made its international debut at the 2013 Detroit Motor Show which was then followed by its unveil in India at the 2014 Auto Expo, will be launched in India on April 3. The car will enter the Indian market via the CBU route and is likely to be priced around Rs 1 crore. BMW has already launched the 6 Series Gran Coupe here in India; the M6 Gran Coupe is the performance edition of the same car.
The M6 Gran Coupe is powered by a 4.4-litre V8 with two win scroll turbochargers producing 560PS of power between 6,000 to 7,000 rpm and 680Nm of torque from as low as 1,500rpm to 5,750rpm. Internationally, BMW also offers the car in a 'Competition Package' trim in which the power has been increased by 15PS and the wheel rim size has also been increased to 20 inch.
The BMW M6 Gran Coupe gets the M performance kit with revised bumpers and wheel arches, a carbon fibre roof and 19 inch wheels. The M6 Gran Coupe also gets quad-tipped exhausts which add to the overall visual appeal of the car. Step inside and you will see that the interiors too maintain the sporty look and feel thanks to a smartly layed out combination of leather and carbon-fibre.
The M6 Gran Coupe will take on the likes of the CLS63 AMG and the Audi RS7 when it is launched in India next month. To know more about the car read our review of the BMW M6 Gran Coupe.