Piaggio has brought in its new Vespa VX variant to the Indian market with additional features and bright new colours. We spent an afternoon puttering around Club Corinthian's aesthetically tiled driveways in Pune to find out if the VX is just better eye candy or in fact a more advantageous product as compared to the standard Vespa model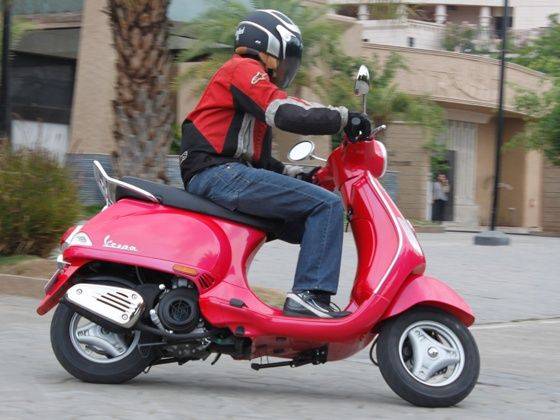 Ever since the day Piaggio announced its return to the Indian scooter market with the new Vespa 125 it was made quite clear that its superior build quality backed by an iconic brand image would certainly justify its identity as the country's most expensive scooter.
Surprisingly the initial hefty price tag of Rs 66,661 (ex-showroom Maharashtra) didn't drastically suffocate sales, taking into consideration of course the fact that the company was keen on maintaining a rather niche clientele. Things got even better after the showroom prices were slashed by over Rs 8,000 owing to the company's increased localisation of parts at its Baramati plant, and just over a year into its launch the Vespa continues selling 4-4,500 units on an average each month.
It appears as though the Vespa has quite successfully managed to create its very own upmarket customer base in the scooter space, and now Piaggio plans to up the ante even further with the introduction of the Vespa VX model.
Dressed for a fancy dinner party
You can't really imagine a scooter being a symbol of fashion and style until you've spent sufficient time aboard one of these with countless heads moving in your direction as you pass by each day. It's curvy design touched with rich chrome elements are a sight to behold no doubt, but all said and done the choice of brighter colours as compared conventional scooters has made the Vespa stand out from day one.
Piaggio is keen on specifically capitalizing on this aspect of its premium product and so with the Vespa VX also come two new shades. Metallic Green and a dual tone Red and Pink, which we spent some time aboard will be available to both Vespa and Vespa VX customers in India for the first time.
While Rosso Dragon (Red) has been hugely popular with the ladies, that lovely Giallo Lime (Yellow) shade is by far the most fancied of the lot; Nero Volcano (Black) has however proved to be quite a poor seller according to the firm's Marketing Head, Krishna M.V. and so Piaggio has decided to discontinue this colour option.
There's a degree of indulgence in almost every aspect of the VX's comfort, ergonomics and overall styling quotient as compared to the entry-level model. The black coloured instrument cluster with its silver dials which already looked great on the base version just got the reverse treatment for the VX, and now looks even better. Even the broad and long contoured all black seat can now be ordered in an elegant beige with the Midnight Blue and Rosso Dragon body colours. Other body colours will have to sadly settle for the darker side of the Vespa's seating.
Holding on tight and coming safely to a stop
The Vespa was a very well engineered scooter to begin with. Its monocoque full steel body, peppy 125cc engine producing 10.06 PS @ 7,500 rpm, CVT gearing system and low speed balance among other things have proven its money's worth.
That being said its limitations on the braking front with 150mm drums on the front and rear have been brought to the fore and in its effort at tying loose ends Piaggio has equipped the VX model with a 200mm front disc brake with a single pot calliper. Even at slightly higher speeds the Vespa VX with its front disc rear drum combination manages to achieve an affirmative halt with succinct ease.
This coupled with its new MRF zapper pattern tubeless tyres has really improved the safety aspect of riding this scooter, and frankly despite the extra cost at least the front disc brakes should have been a feature that Piaggio offered as standard on all its variants.
For those riding pillion the ergonomics just got a whole lot better with a new raised saddle handle bar offering better grip. The chrome handle bars on the VX besides being easier to grab do in a sense add to the overall stylish look at the rear of the scooter.
Making the good better and hoping for the best
The safer and chicer Vespa VX will go on sale later this month, but until then we can only speculate about the difference in pricing as compared to the standard model. Considering the front disc is the only major investment on the VX we don't expect the gap to be very wide, but Piaggio has built a reputation for pricing its products a little above everybody's expectations. Let's hope the VX changes that.