KTM 790 Duke First Ride Review
Oct 10, 2019
Views : 9981
---
Is the 790 Duke's high asking price and somewhat paltry spec sheet straying away from KTM's bang-for-buck mantra in India?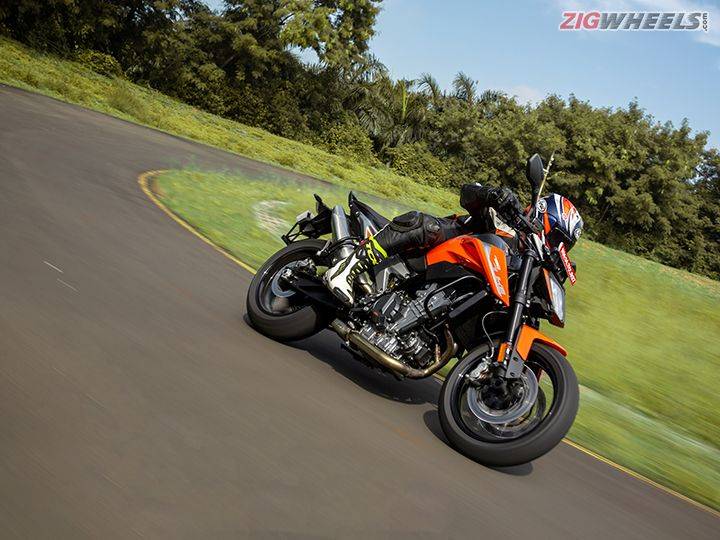 Some motorcycles are really difficult to justify on paper. The KTM 790 Duke certainly seems to be one of them. After making us wait for what seemed like an eternity, the "Scalpel" landed in India carrying a massive sticker price of Rs 8.64 lakh. So much for our dreams of an affordable middle-weight that would put all others to shame with an insane price-to-power proposition, much like the 390 Duke had done. For far less money than the 790, it's possible to get more powerful four-cylinder machines such as the Suzuki GSX-S750 and the Kawasaki Z900. Sure, the Street Triple S is a little more expensive, but then it offers one extra cylinder, more power and a three kilo lighter dry weight. Clearly, the 790 with its comparatively pedestrian twin-cylinder mill should feel a tad disappointing by all accounts. But as with many things orange, all is not how it seems on paper.
Looks familiar:

At first glance, it's somewhat easy to mistake the 790 Duke for its smaller sibling, the 390. And some things are almost identical, such as the design of the LED headlight, the colour TFT instrument console, the shape of the fuel tank and even the 43mm upside-down front fork. But take a second look and it becomes clear that the 790 is larger - not by a huge margin, but big enough. Thanks to its longer wheelbase, it looks stretched out compared to the 390. Then, the flamboyant orange trellis frame is missing, and the 790 also sports a distinctly fatter swingarm (although its design is similar to the 390's unit). The tapering exhaust is larger and follows the line of the tail panels. The TFT screens bears mentioning, as it's smaller than the one on the 390, but shares similar aesthetics. Of course, it offers the added functionality of controlling all the electronic riding aids and I must say that the user interface is one of the easiest to navigate. But the biggest differentiator from the 390, visible on closer inspection, is the build quality. Every panel, every touchpoint (such as the levers and the pedals) feel significantly more premium than the 390. This is clearly made in Mattighofen, not Chakan.
Feels familiar-er?

At 825mm, the 790's seat height is not the most inviting for short riders, but it's identical to the 390's. Surprisingly, even with it's larger motor, the 790 manages to be nearly as slim, so straddling the bike shouldn't be too much of an issue for the vertically challenged. That said, the rider's seat feels a lot roomier, and even for someone of my incredible bulk, there was adequate room to move around. So larger riders should feel at home as well. There is a slight difference in the riding position compared to the 390 though. The handlebars aren't as close to the seat, which adds to the sense of space on the motorcycle. The overall posture is fairly neutral, with just the right amount of sportiness - like a true street hooligan!
Insane motor:

But just how different a beast the 790 is, becomes crystal clear once you thumb the starter. Crank up the LC8c motor and it's clear that this isn't your traditional Japanese inline-twin. A 75-degree offset on the crankpins and a 435 degree (big-bang) firing order allow this 799cc mill to mimic the sound and more importantly, the power delivery of a V-twin. The on-paper numbers don't really do it justice: 104.72 PS at 9,000rpm and 87Nm at 8,000rpm doesn't seem all that much. Until you realise that this motor makes a huge chunk of its torque between 3,000 and 6,000rpm, making it extremely responsive. Even coming out of the slow, tight turns on the Chakan test track, the 790 never felt like it was out of its powerband. It would smoothly power its way out of these corners and rapidly build speed, with the raspy exhaust note just egging us on to open the gas harder and harder.

And just because it mimics a V-twin, don't think for one second that it's not fast. Down the 1km long straight at the Bajaj track, we found ourselves clocking well over 200kmph in 5th gear, nudging past 220kmph in sixth before we had to brake for the last corner.

The ride-by-wire throttle too is beautifully calibrated - extremely precise and controllable. It helps that the bike has four riding modes - Rain, Road, Sport and Track - which allow you to adjust throttle response for the given riding conditions. Now unfortunately we couldn't test out the "Track" setting as this mode isn't enabled until the bike has finished its first service at 1000km. But even in Sport mode, while the engine response came in hard and fast, it never once felt lurchy or snappy.
Electronics Wunderkind:

What also sets the 790 Duke apart from its other middle-weight competitors is the number of electronic riding aids on offer. Not only does the traction control offer nine levels, it is also lean angle sensitive, just like the ABS. The engine is so tractable and the throttle so manageable, that traction control barely kicks in, and even when it does, it's managed beautifully, with barely any hint of the engine rolling back on the power in case of slip. In true KTM fashion, the ABS can be put in "SuperMoto" mode, which deactivates it at the rear wheel if you're in the mood for some sliding antics. If you're truly one of the brave, you can completely switch off traction control as well. There's an up and down quickshifter as standard, which works extremely well when you've really got the hammer down, although it can be slightly clunky at slow speeds and also a little sensitive if you keep pressure on the shifter before upshifting. You also get KTM's MSR, or Motor Slip Regulation, which works in conjunction with the slipper clutch to control engine braking and prevent rear-wheel hop when downshifting hard. And in what seems like a first for the middle-weight segment, the 790 offers wheelie control and even launch control!
Alpine star:

Where the 790 truly comes into its own is when you show it a set of corners. Its 1475mm wheelbase might be among the longest in its class, but with a steep 24-degree rake and tight 98mm trail, this Duke truly lives up to "The Scalpel" nickname. It's super quick to turn into corners and precise enough to get it pointing exactly where you want it to without any effort. Even corner-to-corner transitions are so smooth that it feels telepathic. What's most shocking, though, is the amount of adjustability it offers. Need to correct your line mid-corner? The 790 will happily oblige.

While the 790 turns fast, it doesn't feel one bit twitchy. From upright, to banking, to fully leaned over - the bike is super stable and inspires a ridiculous amount of confidence to push harder and harder into corners. A lot of people might have scoffed at the 790's "simple" tubular steel frame and non-adjustable suspension (the rear is adjustable for preload though). But when the setup is just so well tuned from the get-go, you really don't miss any of those so-called "higher-end" components. Even the Maxxis Supermaxx ST tyres, while they won't match the performance of something like the Pirelli Supercorsas, do provide plenty of grip and feel. Now we were a bit sceptical of the brakes - after all, KTM chose to go with J.Juans instead of Brembos. And they did take a little time to bed in, as we were the first to ride this bike. After a few laps though, they were working beautifully, with the 300mm twin front rotors providing plenty of stopping power with great feel.

Now the following might seem like undeserved or at least untested praise. But while there might be other middleweight nakeds which might clock slightly quicker lap times around fast circuits thanks to their stronger, screamier top-ends, the 790 Duke will simply run rings around them on a tight twisting track or a public road. This is a bike that really needs to be ridden to be believed.
All things practical:

As much fun as the 790 was on the Bajaj test track, it doesn't skimp on any of the practicalities that one might need on a daily basis. Sure, the motor isn't too happy trying to carry very low speeds in high gears. But switch the throttle to Rain mode and it's even easier to modulate at city speeds. And apart from loads of room in the saddle for riders of all sizes, the rear seat is comfortable for pillions of all sizes as well. Factor in the low weight and slim proportions and you have a bike that you can happily commute on, apart from taking it touring, having a blast on a winding mountain road or even dragging knees on a race track.
Final words:

Honestly, I went for the first ride of the 790 Duke carrying a bit of disappointment on my shoulders, thanks to the seemingly high price and low on-paper figures. After our short test ride, though, I left the track with disappointment on my shoulders as well. But not because of the bike, no sir! I'm disappointed at myself because I simply haven't saved enough money in my life to pick up a 790 Duke right now, at this very minute! It is an incredible motorcycle that will quite literally do everything that most people need from a sport naked, while leaving a stupid grin on their face every time they take a spin. And it's a bike that has left me giddy with excitement at the mere thought of riding it again. Hopefully, if I can just scrounge up the money, again and again! Anybody with eight and a half lakh Rupees lying around willing to help me out?
More on KTM 790 Duke

Rs. 8.64 lakh Onwards
Ex-showroom, Delhi
Get Loan starting @6%
View On Road Price
Add Your Comments

KTM 790 Duke Video Review