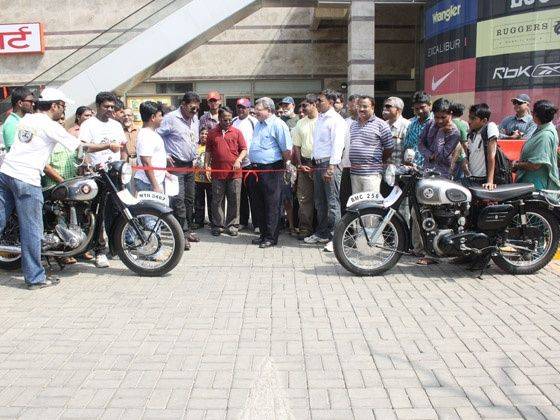 It seems that the vintage and classic car and bike movement is gathering strong steam in various non-metro pockets in the country. The good thing is that it is not just about moneyed enthusiasts stocking up on grandee cars but the fact that regular enthusiasts are wading in with wholehearted fervour. And logically this fervour, directly linked to their wallets is showing a healthy trend of resurrecting everyday wheels which the masses used in the 1950s to 1970s.
One such event which caught the imagination was held on May 1, by the Heritage Vehicle Owners Club of Thane who took over the parking lot of the Big Mega Mart to accommodate a small but significant selection of a dozen bikes and 14 cars which were displayed there almost all day long enabling over 10,000 people to see these workhorses over at least half a century old.
Fiats dominated the field and we could see Millicentos, Delites and Selects dotting the park but there also were examples of the Ford Prefect, Morris Minor, Standard Herald and Hindustan Ambassador, cars which put independent India on the move. It was not only about peoples' cars but also some luxury vehicles of their time including a Mercedes-Benz formerly owned by noted jurist Nani Palkhiwala, a Dodge Coronet and a Studebaker Champion. Also in the field was a 1928 Austin 12 tourer as well as a 1935 Morris 8, the former in need for restoration while the latter had seen a complete ground up restoration in 2000 and was purring away beautifully. A Volkswagen Beetle in bright yellow signified the cheery ambience of the enthusiast owners and I think it is this passion which will take the movement ahead.
The biker category was not the usual smattering but it certainly carried the everyday usage theme further with superbly restored examples of the Rajdoot GTS175 (the Bobby bike) and the long lamented Royal Enfield 200 also known as the Mini-Bullet. Lambrettas of many hues, years and shapes proliferated while Brit bike glory was upheld by examples of Matchless, BSA and Triumph.
Vinay Gurav and his team showed what passion and enthusiasm can do for the vintage and classic car movement and I think that this sort of an event can be replicated all over the country. If only many more enlightened members already dabbling in this movement can go and lend their encouragement and support to try and keep many of these old dowagers on the move, the repository of automotive oldies would be enhanced while in the same breath would help to draw young blood into caring for cars and bikes which got the world on the move.