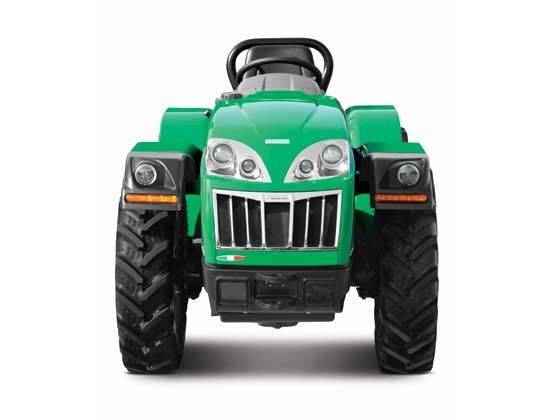 It's rare if not a once in a lifetime occurrence to find the word Ferrari in a news report about new tractors entering the agribusiness in the country. But, rest assured the Italian sports car maker has no contribution in what is now India's first front-engine mounted 4 wheel-drive speciality farming tractor that has been named Ferrari by its maker.
It is in fact BCS S.p.A, an Italy-based manufacturer of premium tractors, who in partnership with Escorts Limited have recently launched two new premium tractors, the Ferrari and an all-new Farmtrac Executive Series that aim to further mechanize the country's otherwise languishing agricultural operations and its supporting infrastructure.
The Ferrari tractor at first glance looks more like an oversized ATV with all four equal-sized wheels, something never seen on an Indian tractor before. It's a spectacular looking vehicle (be farming equipment standards) and is built on an oscillating chassis system with all-time four wheel-drive, a front mounted engine that produces 26PS of power (base model) and allows for a super-low turning radius and an ideal weight distribution.
The Farmtrac Executive tractor series on the other hand is aimed at the young aspirational Indian farmer. The new series besides looking significantly better than the regular Farmtrac models is focused on the comfort of its operator. Independent PTO with a safety device, a new scissor seat with a recliner, stylish fenders, suspended clutch and brake pedals, a digital speedometer and LED head-lamps are all major comfort features on the Executive tractor series.
Speaking on the occasion, Rajan Nanda, Chairman and Managing Director, Escorts Ltd. said, "I am convinced that India is poised for a gigantic leap forward in agriculture. The Indian agriculturist has evolved from just being a subsistent farmer to the one with an entrepreneurial mind. Today, he is looking for equipment that is high on precision and output. Escorts is prepared to partner the forward looking Indian farmer in all facets of his aspirations. The products that we are launching today are a reflection of how Escorts would continue to bring in international technology and design standards to the Indian tractor market."
Available in 45, 50 and 60 horsepower categories, these tractors would be available for bookings within a few weeks.