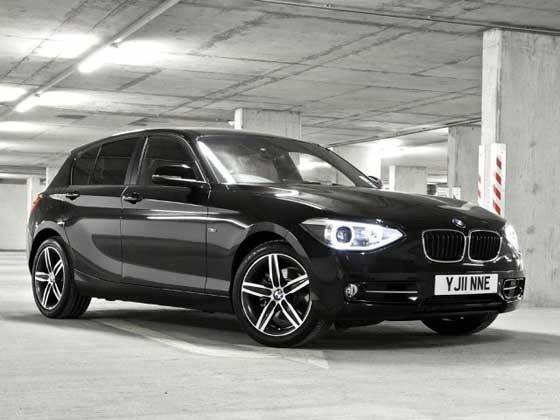 BMW 1 Series
Expected: Mid 2013, Price: Rs 18 - 22 lakh

There has been a constant debate on whether BMW India would ever introduce the 1 Series in India. Adding fuel to the fire was the introduction of the 1 Series Coupe which resulted in the speculation of a four door sedan based on the 1 Series, however to lay all rumours and visionary stories to rest, BMW India has confirmed that it is the 1 Series hatch will be making its Indian debut in 2013.
The car itself is a premium hatchback and boasts of the best of BMW's DNA. For enthusiasts who are looking for a pure driver's machine, the 1 Series fits the bill perfectly. It's small, powerful, well kitted, agile and touted to handle like its on rails. The icing on the cake however is the fact that it is rear wheel drive!
In terms of engines, the 1 Series is offered with two engine choices that boast various states of tune. the 1.6 petrol unit is available in both a 136bhp and 170bhp output while the 2.0 diesel unit is capable of producing 116bhp, 143bhp and 184bhp depending on the variant. While all these choices would be welcome by BMW aficionados in India, the company is most likely to bring in the 136bhp petrol and the 143bhp diesel but we are keeping our fingers crossed for the high end output variants as well.
Skoda Superb*
Face-lifted Skoda Superb
Expected: Early 2013, Price: Rs. 18-28 lakh
Skoda's flagship sedan is all set to go under the knife as well. Expect minor sheet-metal changes up front with restyled headlights, and re-profiled bumpers. In profile, the styling remains mostly the same. Changes to the tail lamps are due as well and is sure to look more in line with current-generation VW and Audi models.
*Image for representational purpose only
Ford Ranger Pickup*
New Ford Endeavour
Expected: Late 2013, Price: Rs 22 lakh
Ford India will be bringing in the new Endeavour based on the new Ranger pick-up truck, first showcased at the 2011 Geneva Motor Show. The new vehicle is more modern under the skin and looks a generation ahead as well. The Ford Endeavour in India is known for its road presence and the new Ranger with its butch styling and dominating size will work well for the Indian SUV buyer. The bulging hood, front grille, bumper and side aprons will give the new Endeavour an unmistakeable appearance.
Engine options abroad include a 2.2-litre and 3.2-litre diesel engines with a variable geometry turbo. The Indian models could retain the existing 2.5-litre and 3.0-litre diesel engines. Ford should put the new six-speed dual clutch automatic gearbox from the Ranger pick-up truck in the new Endeavour in India. It has the potential to change the way the vehicle drives and will create a niche in the market. The new Ranger's rack and pinion steering has been worked on to remove the play from re-circulating ball systems to provide a more precise feedback. The torsion spring suspension up front has been replaced by new coil over strut suspension and the rear suspension's leaf springs have been replaced by improved ones.
Face-lifted BMW X1
Expected: February 2013, Price: Rs. 22-26 lakh
The BMW X1 is its short tenure has proved to be a fairly successful experiment for the Bavarian car maker and has undoubtedly helped it muster domestic sales both in India and overseas. With newer crossover models from miscellaneous car brands lining up for 2013, BMW has made its ambitions quite clear and this involves introducing a face-lifted version of the present X1 model sometime in February.
The refreshed model isn't all that different from the 2012 model, but as you can see does indeed clad a more distinctive crossover profile. A new headlight design with LED accent lights, new fog lamp surrounds and subdivision of the apron, bumper and underguard are the most prominent changes. Side indicators integrated into the exterior mirrors, new exterior colours and alloy wheels are among other changes you can expect to see on the new X1 for 2013.
The insides have also gotten a whole lot better on the face-lifted version with a more driver-focused cockpit design. High-quality electroplated surrounds for the gearshift lever and the centre console cup holder as well as a chrome clip on the headlight switch are some nice touches to the car's new interiors. Engine specifications for the petrol and diesel engine variants on the new model are expected remain the same as the older model. Details of expected petrol and diesel variants and their region wise pricing will be declared closer to the official pan India launch.
*Image for representational purpose only
New Hyundai Santa Fe
Expected: Mid 2013, Price: Rs. 24-25 lakh
The new third generation Hyundai Santa Fe will make its way to Indian shores by mid 2013. The existing Santa Fe, priced between Rs 23 lakh and Rs 26 lakh is known for its its smooth handling and ride quality. The revamped Santa Fe will feature Hyundai's 'Fluidic Sculpture' design and a distinct design called 'Storm Edge', which makes it more aggressive and attractive.
On the cards are a sporty short wheelbase model and long wheelbase model. The face-lifted, 4.7-metre Santa Fe will take on the Toyota Fortuner, Mitsubishi Pajero Sport and Ssangyong Rexton.
India is likely to get the short wheelbase model, with a 2.2-litre turbo diesel engine that makes 197PS of power and 429Nm of torque. It will cost more than the current model, what with more features and improved looks.
Next-gen Honda CR-V
Expected: January 2013; Price: Rs 28 lakh
After launching the new generation CR-V in the UK last month, Honda is expected to launch it in India by January 2013. The improved 2013 CR-V will be shorter and more refined. Prices are expected to be around Rs 28 lakh. For the UK, there is an oil-burner option but for India, the CR-V will debut only as a petrol version. For the first time, the CR-V will be available with both two- and four-wheel drive options.
The new CR-V has a more aerodynamic stance and lower coefficient of drag, a more raked and aggressive front end along with unchanged rear and signature tail lights.
It's more spacious on the inside, with a 589-litre boot that goes up to 1648 litres with the rear seats folded flat. It will feature improved NVH levels, whiplash protection system and a number of new features.
Jeep Wrangler
Expected: Late 2013, Price: Rs. 25-30 lakh
Launching alongside the Grand Cherokee in 2013 the Wrangler is a tough, off-roader best described as a more powerful and luxurious version of the now famous Mahindra Thar. The Wrangler has been around since ages and was in fact produced by Kaiser-Jeep and then American Motors (AMC) and finally Chrysler. In its new avatar the Wrangler sports all new interiors which boast of higher-quality materials; the center console has been redesigned and a strategically applied sound insulation makes this the quietest Wrangler ever.
The arrival of the Jeep Wrangler in 2013 is great news for SUV enthusiasts, but what remains to be seen is how well the vehicle is priced
Volvo V40 Cross Country
Expected: March 2013, Price: Rs. 30 lakh
The Paris Motor Show this year is shaping up to be a much desired conjecture especially with international auto manufacturers the likes of Volvo, who have already made their presence felt in India, and are now looking to exploit new segments and unchartered territories both internationally and more so within their own creative circles.
More importantly for India, the big news straight from the glossy show floors at the ongoing Mondial de l'Automobile is that the Swedish car maker has confirmed that it will indeed be bringing its V40 Cross to India in the first or second quarter of 2013 with an unveiling early that year.
This third variant of the V40 model which was recently launched at Paris according to Volvo India officials is targeted against the Mercedes B-Class and the BMW X1 and believe it or not will in all probabilities be priced slightly lower than both these entry level luxury vehicles which hover around the 23-27 lakh price range for the their base variants.
Jeep Patriot

Expected: Late 2013, Price: Rs 40 - 50 lakh
It's known the world over for its ability to handle rough weather, deep snow, sand and other low-traction surfaces and could very well turn out to be one of Jeeps best selling models once launched in India. Lower bodyside accent cladding, all-wheel drive capabilities and a host of Jeep patented go anywhere technologies should give this vehicle a distinct advantage over conventional SUVs already selling the market at similar price points.
Even the insides of the Patriot are worth drooling over. It's an all-black premium leather look with distinctive chrome accents here and there. Luxury features on the Indian version just like the Patiots selling overseas should include steering mounted controls, illuminated cup holders, front and rear door mats, fold-flat rear seats, tilt steering and a carpeted cargo floor among other highlights.
New Mercedes-Benz E-Class
Expected: Mid 2013, Price: Rs. 40 - 55 lakh
The E-Class has been around for a good couple of years now and with the new 5 Series and the Audi A6, it was about time that Mercedes gave its popular sedan a little nip and tuck. Expect minor exterior changes as well as the addition of new features which is sure to give the E-Class sales some much needed boost amongst the stiff competition.
Jeep Compass
Expected: Late 2013, Price: Rs 55-60 lakh
The 2013 Jeep Compass at first glance would look identical to the Grand Cherokee with a signature styling that almost mimics Jeep's flagship model. Standing tall on its 16-inch wheels the Compass is a formidable off-roading machine. The Compass though smaller than the Grand Cherokee packs a long list of standard equipment which includes air-conditioning, remote keyless/illuminated entry and cruise control, a nicely padded center console and a even a fold-flat rear seat.
Internationally the Compass is powered by a 2.4-liter 14 DOHC 16-valve Dual VVT engine that is mated to a 5-speed Manual transmission. Watch this space for more details on the Compass closer to its pan India launch towards the end of 2013.
Jeep Grand Cherokee
Expected: Late 2013, Price: Rs. 60-70 lakh
Now in its fourth generation the Grand Cherokee has received a lot of updates for its years ahead and once again presents SUV enthusiasts with a brilliant mix of classic styling coupled with the advantages of modern design and technology. There's also that signature seven-slot grille, round headlamps and trapezoidal wheel arches all of which come together to give the Cherokee a very distinct and macho SUV look. Comfortable seating for five and optionally for seven people is courtesy the large plush seat which is designed for plus sized American passengers.
Standard equipment on the Cherokee includes automatic headlights, foglamps, cruise control, dual-zone air-conditioning, a tilt-and-telescoping leather-wrapped steering wheel and a six-speaker sound system with a CD player and an auxiliary audio jack. An optional package adds keyless entry, a power driver seat (including lumbar adjustment), and a USB/iPod interface. Additional luxury and driver assist features like a back-up camera, a power passenger seat, heated front seats, leather upholstery and a nine-speaker premium sound system with digital music storage and a touch screen interface would also available with the top end models.
Jaguar F-type
Expected: Mid-2013, Price: Upward of Rs 1 crore
The F-Type will perhaps be the only sports car to scorch Indian roads next year. But that's not the only reason why this two-seater roadster's launch is among the most anticipated here and elsewhere across the world. Leaving aside the fact that it's absolutely stunning to look at, the F-Type, unveiled at the 2012 Paris Motor Show in September, is the first real sports car from the Leaping Cat since the legendary E-Type was discontinued around 50 years ago.

On offer will be three engine options: two 3-litre V6s that deliver 345PS and 385PS respectively and a 5-litre V8 that puts out 502PS that's good for a 0-100kmph blast in 4.2 seconds. The engines are mated to an 8-speed automatic transmission with steering wheel paddles and a shift lever in place of the rotary selector found in most Jags. There's also talk of a manual transmission version being added by the end of 2013. If launched, it would be the first Jaguar to feature both an automatic and manual gearbox since the X-type.

The open-top version will go on sale in markets abroad sometime around May 2013 though India will likely get the hard-top coupe version slated for a roll out later.
Face-lifted BMW 7 Series
Expected: February 13, Price: Rs 80 lakh - 1.5 crore
The current BMW 7 Series available in the market is soon going to be replaced by the newly enhanced model, which essentially is a facelifted version of the fifth generation car. Unlike the wide portfolio offered in other markets, BMW India will only introduce the 730Ld, however a petrol engined model can't be ruled out for a later launch in the year.
Visually, the major changes to the BMW 730Ld have been focused on the front and these include the new LED headlights, new kidney grille, revised front bumper, side indicators incorporated on the bottom of the ORVMs and a thin chrome strip connecting the two slim reflectors in the rear apron. Apart from that, the 7 Series retains its quintessential chiseled styling and proportions including the long hood and set back passenger cabin. Interior changes are limited and the only visible ones include the narrower front seats and a new 1,200 watt Bang and Olufsen high end surround sound system with 16 speakers. Incidentally, BMW decided to narrow the front seats in order to offer a more airy feel to the cabin.
Powering the BMW 730Ld is a 2993cc, in line 6 cylinder diesel unit. The engine itself is not new; however it has been tweaked for overall performance and enhanced efficiency. Fitted with a turbocharger, variable intake geometry and piezo injectors, the engine now delivers 258Hp @ 4000 rpm as opposed to 231 horses earlier, and torque has also gone up from 520Nm to 560Nm which kicks in as low as 1500rpm. Unlike the earlier car, the new car is now mated to an all new eight speed automatic with steptronic and is capable of going from 0-100km/h in 6.2 seconds, which is approximately 1.7 seconds faster than its predecessor!