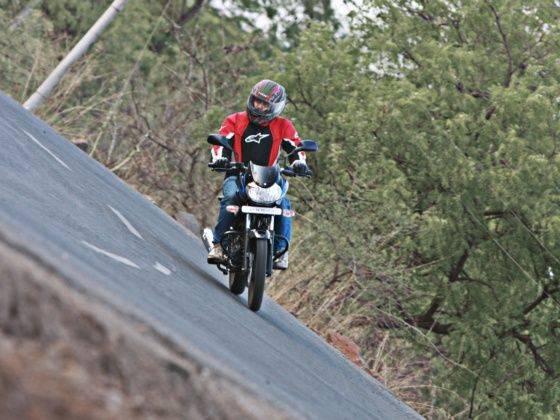 Bajaj Discover 125
125cc bikes offer the best of everything. They are powerful enough to keep you ahead in city traffic, while being low on maintenance. This segment is also no longer about fulfilling mere commuting needs with manufacturers putting a lot of importance to their bikes' styling. But what probably works the most in their favour is the high mileage 125cc bikes offer. Here's a lowdown on the top five fuel-efficient 125cc bikes in India at the moment. We have done a backward count – from least fuel efficient to most.


No. 5) Yamaha Gladiator: Mileage – 65kmpl
The Yamaha Gladiator is powered by a 123cc single cylinder air cooled engine, producing 11PS of power. The bike will do 0-60km/h in 7.02sec and touch a top speed of 106.61km/h. Even though the Gladiator is at the bottom of the heap when it comes to efficiency, it dishes out 65kmpl on average. The fuel tank can hold 13.6 litres and will travel 890km to a full tank. The Yamaha Gladiator is priced at Rs 50,000 ex-showroom, Delhi.


No. 4) Suzuki Slingshot: Mileage – 66kmpl
The Slingshot from Suzuki produces 8.5PS of power from its 124cc single cylinder, air-cooled engine. It will do 0-60km/h in 7sec and touches a top speed of 104km/h. Delivers an overall average of 66kmpl and has a tank capacity of 12 litres which gives it a range of 792km to a full tank and retails at Rs 48,887 ex-showroom, Delhi.
Suzuki Slingshot
No. 3) Bajaj Discover: Mileage – 68kmpl
The single-cylinder Bajaj Discover produces 11PS of power from its 124.6cc air-cooled engine. The 0-60km/h dash on the Discover takes 6.9sec and bike maxes out at 102.2km/h. The fuel tank can hold 8 litres of fuel and delivers an overall average of 68kmpl, giving it a range of 544km/l to a full tank. At Rs 48,540, ex-showroom, Delhi, the Bajaj Discover is the cheapest among the bikes featured here.


No. 2) Honda Stunner: Mileage – 68.3kmpl
The stylish single cylinder Stunner from the Honda stable produces 11.15PS of power from its 124.7cc engine – the highest in this segment. It is also the fastest bike from the lot with 0-60km/h time of 6.1sec and a top speed of 100.3km/h. It has a tank capacity of 11 litres and will dish out 68.3 kmpl to a litre. The bike will run 819.6km on a full tank of petrol and retails at Rs 51,425 ex-showroom, Delhi.


No. 1) Hero Glamour: Mileage – 69kmpl
The Hero Glamour from Hero Motor Corp. produces 9PS of power from its single cylinder 124.7cc air-cooled engine. The bike can do 0-60km/h in 7.1sec and achieve a top speed of 98.3km/h. The Glamour's 13.6 litre fuel tank ensures the bike runs 938km without needing to refuel. While the Hero Glamour wins the fuel efficiency battle with a mileage of 69kmpl, at Rs 52,500 ex-showroom, Delhi, it is also the most expensive bike in this pack.