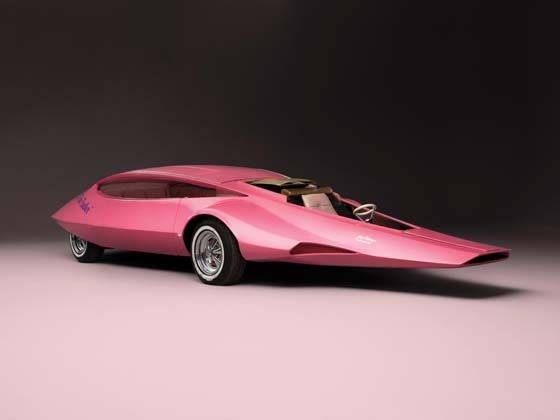 It's made us laugh, it's kept us guessing and its humour and unparalled wit has kept audiences entertained for almost half a century now. The 'Pink Panther' Series, that began all the way back in 1963 has since been adapted into a number of movies, television shows and animated themes that have made it a legend in the world of detective comedy across a number of mediums.
An intergral part of this franchise is the exceedingly rare original "Pink Panther" car that has a fan following almost at par with some of the most popular superhero getaway machines ever featured on the silver screen.
A heavily customized autmobile for the Pink Panther Show, that aired in the United States on NBC from 1969 until 1976, the 'Panthermobile' was a one-of-a kind automobile. The car is the master creation of designer Jay Ohrberg, who is the same prodigy behind some of the most revolutionary cinema car concepts like the Batmobile, the Knight Rider K.I.T.T, and the DeLorean (Back to the Future Trilogy)
Exemplifying the whimsical-modern aesthetic of an era-defining television program, the 'Panthermobile' is now on auction for the second in its 42 year existence. The 'Panthermobile' was formerly owned by Mr.Ohrberg, who entered the vehicle into an auction in June 2007 by COYS.
Bagged for a whopping £88,000 (66,10,454.0 INR) the current owner of the vehicle has preserved the original condition of the legendary 'Panthermobile'. But, as the car is not street-legal, it no longer comes with a working Swansea V5 engine.
The good news however, is that this famous Pink Panther inspired machine is now once again for sale via an online auction that begain on the 4th of September this year. The announcement was made to the public and interested buyers at the Chelsea Auto Legends Show on the same day, and is being run by auctioneers Robson Kay via bidspotter.co.uk.
Open for bidding and final claim until the 14th of October 2011, the original and world famous 'Panthermobile' can be yours if you are willing to pay a hefty price that as per www.pinkpanthercar.com is estimated to sell for anything between £50,000 – 100,000 (37,55,939.8- 75,11,879.6 INR).