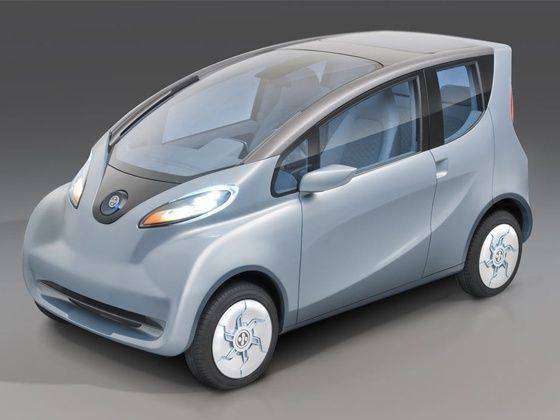 Year 2012 has been a happening one for the automotive world. In the Indian market alone, 47 new models were launched. Global launches and concept unveilings have kept enthusiasts on their toes, with everything from eco-friendly compact urban runabouts to stonking performance cars in the mix. Here are the most intriguing concept cars unveiled in 2012, which we hope will hit the streets soon.
Tata eMO
Home grown automobile maker Tata, in collaboration with Tata Technologies, their cutting edge IT department, came up with the eMO (short for electric MObility) electric concept car.
Unveiled at the 2012 Detroit Motor Show, the Tata eMO is powered by liquid-cooled dual motors that generate 25PS of power. The electric motors are driven by a lithium ion battery that gives the eMO a driving range of 160km on full charge and a top speed of 105km/h.
The eco friendly Tata eMO is built from recycled materials and its mould-in coloured panels ensure that its construction has a low carbon footprint.
A large glass panoramic roof, large windows, an LCD tablet in place of a conventional dashboard and an almost non-existent centre console make the eMO feel even more spacious than it appears. It seats four adults in comfort, and its massive front doors and rear suicide doors provide easy ingress and egress.
With an estimated price tag of $20,000 (Rs 11 lakh) the eMO is a affordable futuristic electric vehicle that could fare well on streets across the globe.
Slideshow:
Renault D-Cross
The Duster developed as a budget SUV was beginning to show its age and therefore in 2012 Renault gave it a new lease of life in the form of the D-Cross concept.
Essentially a run-of-the-mill Duster under the skin, the D-Cross features a stronger power dome on the bonnet, radically styled grille and what seem to be LED headlamps, sporty lower guard for the bumper along with futuristic fog lamps. It gets a coat of green paint, a roof rack with the spare wheel mounted atop, raised ride height and new chunky wheels and tyres for a more butch look.
At the back, the angular rear quarter glass livens up the otherwise flat glasshouse and the new tail lights look fairly modern. The D-Cross concept gets a new rear bumper with a red reflector strip running across it with rear fog lamps at both ends. There is a new silver air diffuser in the centre to add to its sporty appeal.
What powertrain it'll use is not known but SUV crazy Indian will love a four-wheel drive system.
Land Rover Defender DC100
Originally slated to replace the iconic Land Rover Defender, the Defender DC100 concept is being designed to meet the requirements of armed forces and humanitarian groups like the Red Cross.
When it was first showcased in Frankfurt, Land Rover stated that the new Defender will come loaded with gizmos to make sure that the driver is always aware of the terrain and has the necessary capabilities to tackle it. A Terrain-I scanning device will warn the driver of unseen off-road obstacles, Wade Aid sonar technology will assess water depth and advise optimum speed, the new Defender DC100 will also feature a driver activated spike tyre system 'Always-on' connectivity and telematics along with built-in induction charging stations.
The powertrain options will use the latest technology to optimise performance and fuel efficiency both on the road and off it. The Land Rover Defender DC100 is sure to usher in a new era of rugged and capable off-roading.
Slideshow:
Alfa Romeo 4C
The 4C concept based on the exotic Alfa Romeo 8C Competizione is designed to be a compact sports car that goes like a supercar. Carbon fibre has been extensively used in its construction to reduce its weight and increase structural rigidity, the car weighing just 850kg, which is lighter than a hatchback. A short, 2.4-metre wheelbase, high quadrilateral front suspension and a MacPherson layout at the rear mean Lancia Stratos-like agile cornering ability.
A mid engine layout with a 40:60 weight distribution does justice to its rear-wheel drive layout. Featuring Alfa Romeo's new TCT twin dry clutch transmission, it is powered by a four-cylinder 1750cc turbocharged engine with a power output of 200bhp. Its light kerb weight makes for a power-to-weight ratio of 235 horsepower/tonne. As result, the 4C does the 0-100km/h sprint in less than five seconds and has a top speed of 250km/h. Handling and cornering, not top speed, are its forte.
Coming to design, it will feature two new eye-catching colours, 'fluid metal' which enhances its smooth flowing lines and 'Lava Red'.
Renault Alpine A 110-50
A tribute to the rally starring original A 110, the Renault Alpine A 110-50 concept's inherent characteristics reek of hard core performance and driving delight. It translates the original car's characteristic design in a modern and spectacular way with its elegantly sculpted bodywork.
Coated in a new shade of blue which refreshes and reinterprets the famous original 'Alpine Blue' Renault paint job, the A 110-50 concept is a radical looking performance machine that means business.
The 3.5-litre 24-valve 400hp V6 engine mounted mid-rear is mated to a semi-automatic six-speed sequential gearbox, and cera-metallic twin-plate clutch that can be controlled with pedal or steering mounted paddle, and is specific to the car. A limited slip differential puts all that power on the road judiciously.
On the streets the Alpine A 110-50 will challenge some of the most revered supercars with its honed drive dynamics and scorch race tracks as well.
Slideshow:
McLaren P1
After the 90s F1 supercar, the P1 is McLaren's latest attempt to take on the best in the business. It will sport a tweaked version of the 3.8-litre, direct injection, V8 engine that will develop over 800PS of power! It's being developed at McLaren's UK technology centre where lightness is a crucial criteria for development.
The first pictures reveal that McLaren has worked hard to give the P1 an evocative supercar appeal, but Mclaren could have overdone it with those busy lines and exposed carbon fibre panels.
McLaren claims it will be the best driver's car in the world on both road and track when it goes into production late 2013. The company aims to use all of its racing and road car experience, 50 years of it, to create a car like no other, much like they did with the F1 20 years ago.
The P1 will be slotted above the MP4-12C supercar both in terms of performance and price.
When the flagship McLaren goes on sale it will compete with the upcoming flagship Ferrari F70.
Slideshow: