Should You Buy A Cheap Used Luxury Car?
Dec 28, 2020
Views : 6208
---
The number of premium cars available for jaw droppingly low prices is mind boggling. But whether you can actually afford one isn't a matter of just the purchase price!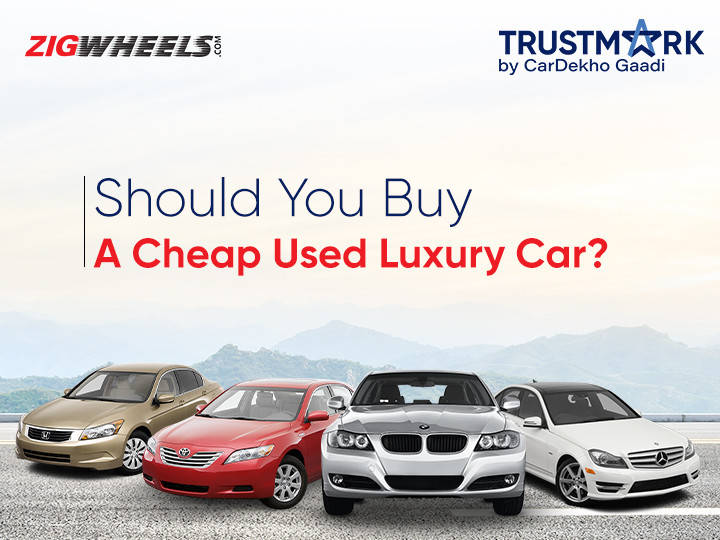 A favourite pastime for a lot of car enthusiasts is hunting through car classifieds pages, looking for good deals. After all, buying a used car comes with several benefits, the biggest of which is cost. Used cars cost less to buy, less to insure and offer you the opportunity to upgrade in advance.

Let's say you have a budget of Rs 2 lakh - Rs 5 lakh, which is a decent amount to get you a new budget hatchback. For that price you could get a Renault Kwid, Tata Tiago, Maruti Ignis or even a 7-seater like the Renault Triber. But on used car lots, that same price gets you cars from several segments above.

One search on the ZigWheels used car section will yield you some amazing deals. For the ex-showroom price of a mid range Renault Kwid, you could have a Honda CR-V AWD, Civic or even a Honda Accord! Luxury brand cars can also be found easily and in a good condition at that! For Rs 5 lakh or less you could get an E90 BMW 3 Series or a W211 Mercedes-Benz E Class.
Tempting, isn't it? But who should consider such a deal and who shouldn't?
First Time Car Buyer

If you're spending Rs 2 lakh - Rs 5 lakh and buying a car for the very first time in life, we'd recommend against buying a used premium car. The ownership experience of a car teaches you a lot about expenses. And that is the one area where a new budget car and a used premium/luxury car are completely different, even if their purchase cost is the same.

Remember this: if a car is expensive to buy, it will be expensive to maintain. Such cars use higher quality materials, have more complex electronics and more sophisticated parts. They're built for a higher budget standard because they're targeted at buyers who spend more. While the car's price will drop every year because of depreciation, the requirement of top grade replacement parts does not change.
Let's take the example of a popular new car and a similarly priced and what could be a very desirable used car in the future - the Renault Kwid and Toyota Camry.
| | | |
| --- | --- | --- |
| Spare Part | Renault Kwid | Toyota Camry |
| Front Bumper | Rs 1501 | Rs 9965 |
| Rear Bumper | Rs 3036 | Rs 9043 |
| Front Grille | Rs 1055 | Rs 6577 |
| Headlamp with bulb (each) | Rs 2493 | Rs 18,763 |
| Fuel Filter | Rs 256 | Rs 4968 |
| Brake Pads | Rs 1630 | Rs 5399 |
| AC Condenser | Rs 2648 | Rs 45,059 |
| Front Suspension Lower Arm | Rs 1359 | Rs 11,854 |
*Spare part prices as of May 2020
As you can see, not only is the Toyota Camry from multiple segments above the Kwid but its spare parts cost exponentially more as well. The list above has just a few examples that highlight how much the same part can cost in different cars.

A few years down the road, when the current-generation Camry is available for a lot less money, its spare parts will still cost more than any popular budget hatchback's. Similarly, if you buy a used Honda Accord/Toyota Camry today (which you can easily get for Rs 5 lakh or less), you will see a similar pattern when it comes to costs vs a new budget hatchback.

Does Toyota make more money off the same part? Well, they definitely have stronger margins for the Camry's parts vs what Renault would make on the Kwid. But the fact remains, the Camry has significantly higher quality components which WILL cost more.

This means that every service and every repair/replacement can cost four times as much in a used premium car vs a new budget car. So if you're buying a car for the first time in your life, we'd encourage you to buy used but don't start with a high end car.

This way you understand the costs of car ownership better and can analyze if your income permits the expenditures that will arise in the years to come. It's one thing to buy an elephant and another to feed it.
Garage Queen

A used luxury car does, however, make a lot of sense if you want the prestige of owning a fancy car but don't intend to use it as your primary mode of transportation. Maybe you already have a more economical daily driver and want something that you want to take out on the weekends or on special occasions only. It could even be something you just want parked in your driveway that'll impress the neighborhood.

For this need, a used luxury car is a great idea. To begin with, you don't have to spend Rs 40 lakh - Rs 50 lakh on an entry level car from Mercedes-Benz, Audi, BMW, Jaguar and the like. For around Rs 5 lakh, you could buy an older generation full-size luxury sedan from most of these brands.

There will be a little research needed to get a car that's in good condition but you won't be starved for options. Luxury car service centres also offer paid inspections so you know what might need replacing and can bargain on the purchase price accordingly. If you're looking at a younger used car, keep an eye out for the Trustmark certification. Such cars get a 200+ point check to begin with and even a 6 month/7500km warranty on the engine and transmission!
The maintenance cost still won't be cheap but since you're looking at limited usage, it doesn't burn through your pocket as much.
Project Car

Let's say you've always wanted a smooth speedster with six cylinders. Something with strong pedigree that you can build up and make even better by yourself, like a nice E90 BMW 330i. A 3.0 litre, 6-cylinder engine that makes over 250 horsepower and gets just angry enough over 4000rpm to make your heart tingle. Try finding a formula like this in the new car market without spending enough to buy a small house!

With an upper limit of Rs 10 lakh in the used car market you can get a powerful premium/luxury car, enjoy the stability and performance it offers or modify it to suit your desires better. On the performance front, these cars come with strong credentials out of the factory, making them a good starting point.
Of course, given that this is an indulgence, you're someone aware of the costs involved but being a car enthusiast is an expensive habit, isn't it?

So if we had to summarize with one takeaway it'd be this - buying a luxury car used has a lot of benefits. You get a well built car that could not only offer more performance but better safety too. Such cars also make a strong impression and you get something from segments above at a significantly lower price.
However, high end cars are expensive to maintain and when the expenses rain, it pours. As long as you're aware of that truth, buying one used could be one of the best experiences of your life.
See what our community has to say!
NEW
India's largest automotive community