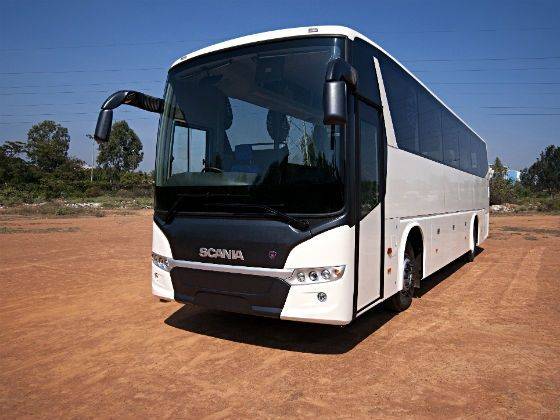 Swedish commercial vehicle manufacturer, Scania commenced its entry into the Indian bus and coach market with its Metrolink range of buses. The initial batch of buses will be completely built units and local production of the coach will start in the last quarter of 2013-14. Based on a system of chassis modules and modular bodywork, the Metrolink will be offered in offered in two and three-axle form, with three different models having seating capacities of 45, 49 and 53 passengers.
The Metrolink HD 45-seater is a 12-metre 4x2 model and features a 9-litre, 314PS, Euro 3 engine mated to a 8-speed automated gear box. The Metrolink HD 49-seater variant is a 13.7-metre 6x2 model with 49 semi-sleeper configurations and is powered by a 13-litre, 365PS engine which is mated to a Scania Opticruise 8-speed automatic transmission. The top of the line, Metrolink HD 53-seater is a 14.5-metre, 6x2 model featuring 53 semi-sleeper seats.
The HD-53 employs a 8-litre, 416PS mill which is equipped with a 8-speed auto box. For ease in maneuvering the third axle is hydraulically steered. Scania will be investing Rs 250 crore in setting up a new facility in Bengaluru and plans to hire 800 people in the long run. First batch of deliveries to customers is expected to start by 2013. Scania will have to face stiff competition from Volvo, Mercedes-Benz and Tata Motors who have well established themselves in the luxury bus segment.