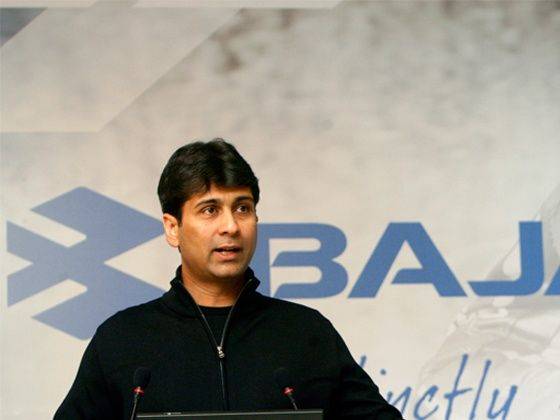 At least once a month at the breakfast table at the Bajaj family residence within the campus of Bajaj Auto Ltd (BAL) on the outskirts of Pune, the patriarch has a question for the MD & CEO of the country's second-largest two-wheeler maker. "When will BAL become the No. 1 two-wheeler company in the country," is Rahul Bajaj's not-so-occasional query to son Rajiv.
Rajiv's answer on many such days is: "We are No. 1 in technology, in exports, in market cap, in profitability....the only bit that remains is to be a leader in volumes."
A few days ago, the 46-year-old CEO told this writer. "We need to take the longer route to that [to become No. 1 in volumes] because only in mathematics is a straight line the shortest distance between two points. I tell my father it's not as if we have given up on that metric; we're just taking the more profitable road there."
The Scooter Segment
The "longer route" Rajiv is talking about involves a re-entry into the entry-level market, which accounts for 65% of the bike market; BAL recently launched the 100 cc Discover T in this segment, and Rajiv is at pains to point out that it is not a me-too product, but a well-differentiated one with superior power, features and styling, and "more expensive than the most expensive product" in the 100-cc segment.
The second milestone of the "longer route" is unlikely to appear in the short to medium term. Rajiv says he "may" return to scooters, but only after BAL reaches a "dominant" global share in bikes from 10% today to 30% or even 40%, a point at which BAL may feel there is little headroom left to grow the motorcycles business.
"One day BAL will have to come back to scooters but I am sure it will be a premium product, and high on fuel efficiency," says RL Ravichandran, executive director, Eicher Motors, a former marketing honcho at the Pune-headquartered two-wheeler maker.
With scooters growing at a healthy clip of 18.4% in fiscal year 2013 faster than the 0.77% motorcycles are plodding at and everybody from Honda to Hero MotoCorp to Mahindra & Mahindra scoring healthy gains in this segment, there's adequate reason for the chairman (Rahul Bajaj) and board members to gently nudge Rajiv towards scooters. After all, a combination of a presence in the mass market for bikes at the higher end coupled with a scooter portfolio will go a long way in closing the gap with leader Hero MotoCorp.
Says Anil Dua, senior vice-president, sales & marketing, Hero MotoCorp: "If you want to be a significant player in India, you have to be both in 100-cc bikes and scooters. Scooters account for 20% of the two-wheeler market and 100 cc accounts for 65% of the bikes market."
Adds YS Guleria, vice-president, sales & marketing at Honda Motorcycle & Scooters India (HMSI): "You can take an Indian out of the scooter market but not a scooter out of an Indian heart. Scooters are now selling in the commuting segment and in terms of mileage are comparable to motorcycles."
Strategy or U-turn?
For a man who stands steadfast by his strategy of opposites and differentiation put out something that is in contrast to the market leader's product getting into the market with products that he had decided to stay clear of in the past may seem like a U-turn. When this writer suggested to Rajiv that he has misread the market at a meeting at the BAL headquarters earlier in the week, the CEO spent two-and-a-half hours explaining that he has in no way abandoned or tweaked his strategy of specialisation.
Armed with charts, numbers, quotes of everyone from Bertrand Russell to Margaret Thatcher and case studies of iconic brands like McDonald's, Apple and the German luxury carmakers, Rajiv illustrated the method to the entry into the top end of the mass market; the point in time scooters will get back on the drawing board (not any time soon), and how the humble three-wheeler at a company that prides itself for its sporty bikes fits into a strategy of 'maximisation'.
Let's start with the recently-launched 100-cc bike. In the past, BAL had attempted to find a place in a market dominated by Hero MotoCorp's Splendor and Passion with models like the 4S and the Boxer, but with little success. That's when Rajiv realised that taking on Hero by launching a similar product at a lower price wouldn't work not only wasn't it making significant gains in share, a 'cheap' bike was also a drain on profitability.
"In 2005-06, we decided we didn't want to play the cheapest game. I said then I don't want to make 'cheap 100-cc' bikes; unfortunately media didn't hear the word cheap and said, 'Rajiv Bajaj to exit 100 cc'," says Rajiv. "There is no money in 100-cc bikes, if we are going to sell it at 20% discount to Hero," he adds.
Changing Lanes
So instead of continuing to be a me-too, BAL decided to stay clear of the 100-cc space and focus on building its own niches. Rajiv uses the example of what Apple did to surge ahead of rivals like BlackBerry. When Blackberry was popular with its keyboard, Steve Jobs made a phone without a keyboard. Today Blackberry also makes touch screens, but it was Apple that created the niche. That niche eventually grows to become a category, with the creator of that niche eventually emerging the volume leader.
That's what Rajiv did with the Pulsar and the Discover: he created two differentiated niches on the top half of the pyramid the 'sports' segment (150-cc bikes and above) and 'the sports-commuter' slice of the pyramid (largely 125 cc). Together these segments today account for 35% of the market with the mass or, in BAL lingo, the 'commuter segment' accounting for the rest.
Armed with those learnings, BAL was now ready to target the 65% portion of the pie with a product with more features and a price higher than those prevailing in the market. By going beyond the offering of mileage with the recently-launched Discover 100 T, to offer power (of a 125-cc bike), premium features (stylish alloy wheels and nitrox suspensions) and styling (a sporty muscular tank), BAL has created a new niche by offering the most-powerful bike in the category with the most-superior features and the best styling.
And after consolidating at the 'deluxe' end of the pyramid with the Discover T, Rajiv will shift to the middle of the pyramid the 'value' segment with another 100-cc option but he's unlikely to go lower than that to the bottom (the 'standard' segment). The deluxe segment accounts for a fourth of the entry-level market, while value is 43% and standard 32%.
"What matters are the perceptions that exist in consumers' minds," says Bajaj. "The essence of positioning is to accept the perceptions as reality and then restructure those perceptions to create the positions you desire."
Money Machine
If BAL has succeeded in creating a perception of building powerful, stylish and feature-packed bikes, it's thanks to the track record of the Pulsar and Discover. Now it's time for that track record to rub off on the Discover T. "Start as an opposite, create an aura around yourself. Marketing is not selling. Marketing is about making yourself desirable," says Rajiv. And, for good measure, ensuring that you still earn robust double-digit operating margins with an entry-level product.
Rajiv says BAL's strategy is not too different from that of Mercedes or BMW or Audi which have stepped down from the luxury category into the entry-level segments. "But our DNA like that of the German luxury carmakers will always be premium sportier bikes."
Yet, for a company that likes to be talked in the same vein as the German elite troika, how does Rajiv justify making a three-wheeler that's not exactly sporty or stylish? Profitability is a compulsion here, with three-wheelers coming in with the highest operating margins (25%) followed by the Pulsar (20%).
Rajiv compares the three-wheeler to the fries of McDonald's. The chain attracts consumers with its burgers but it makes more money from its fries. "We specialise in motorcycles and make good money from them, but we make a hell of a lot more in three-wheelers." He insists that three-wheelers are not a dichotomy in strategy but one of "maximisation". BAL hopes to earn more respectability in this segment by graduating to a quadricycle (a similar but slightly more sophisticated and safer vehicle with a fourth wheel) once regulations are in place.
Now for the scooters part how does Rajiv justify revisiting a space he had abdicated; how does he create differentiation here; what would be his strategy of opposites; and, of course, how will he convince the world he wasn't wrong in slicing off this piece of the pie in the past?
Big Boys in Bikes First
The short answer to all these questions: there are no answers, at least for now. Yes, BAL will at some point in time reconsider scooters; but that point won't be in the short term. "We will think of another category of scooters when we have a dominant global motorcycle market share...I fear that if we put resources into scooters right now, we will lose out in bikes. Strategy is specialisation, and specialisation means sacrifice," says Rajiv.
Analysts agree that the core business line could suffer as focus shifts to a new one. For instance, even as Hero Motto's share in scooters has climbed from 12.6% in fiscal year 2009 to 18.1% in the first nine months of fiscal 2013, its share in bikes has dipped from close to 60% by almost seven percentage points over this period. Similarly, Honda's scooter slice has reduced from 54% to just under 49% even as its share in bikes has jumped from 6.2% to 11.4%.
Rajiv makes the point that Hero Moto got into scooters only after dominating mobikes. Similarly Honda got into motorcycles in a big way only after crossing a 50% share in scooters. "The purpose of a brand is to dominate its category," he says. BAL still has some way to go in bikes before it reaches that position of dominance.
Till then Rajiv will keep BAL's top brass and his father and others urging him to consider a re-entry into scooters at bay by quoting management guru Michael Porter ("The essence of strategy is choosing what not to do"); and author Tom Heehler ("Courage is the ability to ignore your options").