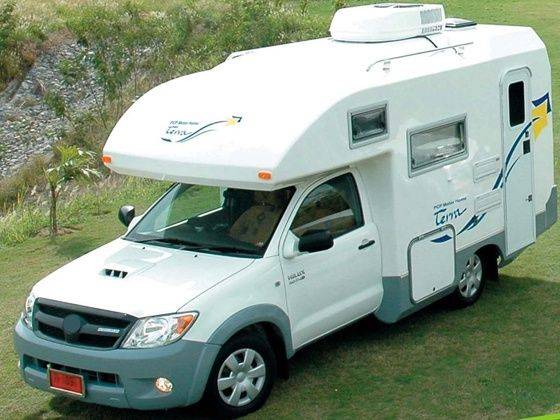 PCP an automotive component maker has announced that it will be entering the motor home vertical in India with its Terra range of motor homes. Initially in India, the PCP Terra motor home will be mounted onto the Mahindra Genio pick-up truck platform and will be available in one variant.
The Terra has a fibreglass frame with thermal insulation, double acrylic windows with vacuum system and three sets of nets, namely, clear, opaque and mosquito for added convenience.
PCP states that the Terra can be used for work or leisure by converting the meeting/ living area that can accommodate up to seven people into a bed-room for five.
As expected of a motor home, the PCP Terra is loaded with convenience features such as a reverse camera, air conditioning, heating, refrigerator, microwave, wash room, shower, shelves and drawers for clothing and utensils, stereo and a multimedia system with a television, radio, and a DVD player. The Terra motor home also comes with a display to monitor the level of fresh water and wastewater onboard.
The PCP Terra will be manufactured in Thailand and assembled here in India. The motor home will go on sale across the nation for keen travellers and will be an attractive proposition for the tourism sector as well.
The PCP Terra motor home is expected to be priced between Rs. 31 lakh – Rs 37 lakh (ex-showroom). This includes the cost of procuring the Mahindra Genio which is around Rs 6 lakh (depending on the model of the Genio), the cost of conversion is Rs 28.5 lakh (service taxes extra) and delivery charges are additional. Deliveries for the PCP Terra will take 10-12 weeks from the date of order, it is expected to go on sale by June 2013.