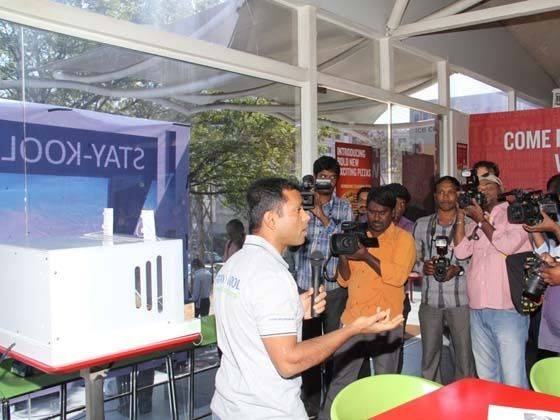 The sultry summers are around the corners to burn our skins. No matter whether you walk or drive, the sun is impartial to one and all and keeps emitting the harsh UV rays. But this time around, we have a good news for all the car drivers that will help protect them against these harmful rays from reaching inside the car.
A new Japanese technology has been introduced on Tuesday in Hyderabad, India that will replace the tinted car window films that were once banned by the Supreme Court in April 2012.

The product is named 'Stay-Kool' and comes as an alternative to the tinted window films of the car in the form of a colourless spray paint that protects the skin from the UV and the infrared rays of the sun.

This technology is launched by Fumin Global, the company which owns the global patent for this product. Mr Ash Roy, Managing Director, Stay-Kool Supply Chain Pvt Ltd says, "Stay-Kool was invented in Japan and is being launched globally this year, in all the counties, along with India. It will also be exhibited in the Indian Automobile Expo 2014."

Stay Kool is as clear as glass with 87 per cent visible light transmission (VLT). When sprayed on the car's window glasses from inside, the nano-particles in the Stay-Kool liquid form a clear and transparent two-micron thick coating that keeps much of the harmful rays of the sun out.

Roy informs that this technology will cost less than the solar control films which were earlier being used and will also reduce the AC energy consumption by approximately 30 per cent. The cost of the spray also comes at an affordable price of Rs 8,000 per sq mt and will last for 10 years.

Stay-Kool is certified by the Japanese Ministry of Environment as an energy-saving technology. The company is initially tying up with Mahindra First Choice to reach car owners who can use this technology to get their car's windows sprayed at an authorised service centre.

Arjun Valluri, Director, Stay-Kool, claims that a car owner can drive into an authorised dealer, get the application done and drive out in two hours. According to him it is absolutely safe to carwash it and no additional care is needed to maintain it.

For more details, log on www.stay-kool.net or
Email: india@stay-kool.net.