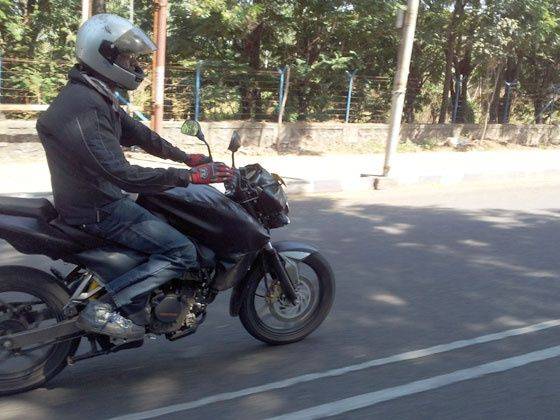 The test mules you see in the pictures here are the future-generation models of the iconic Bajaj Pulsar range. Built around a completely new platform, quite similarly to the one previously seen on the Bajaj Pulsar 135 LS (Light Sport), the new Pulsars will be lighter, faster yet affordable to the average Indian bikers and they will boast quite a few new features that will be seen for the firt time in their respective segments. The particular model that has been spotted during its testing in and around Pune, clothed in dummy covering and flashing a KTM engine block, is the next generation Bajaj Pulsar 125. Our sources confirmed that the new Pulsar will start from 125cc range (the test mule seen in pictures here) and then go all the way up to higher capacities. The 125 will be a stepping stone for commuters into the world of performance motorcycles and that the new Pulsar 125 will be fairly quicker than any of its competition in the Indian market.
It is certainly clear from the pictures that the bike is rather compact for anything bigger than a 125/150cc motorcycle, as well as, the tyres sizes and a drum brake on the rear also hints at the fact that this will be an economical performance machine for budding riders. Running an impressive new mono-suspension on the rear and fatter front suspension also throws light on the new platform with a solid fat box-section swingarm adding to the altered dynamics. The front braking unit is provided by Bybre, the same employed on the KTM 125 and the 200 Duke. The styling is also in line with the Pulsar 135 LS with the floating tank panels, skinny rear, hanging number-plate mount and an aggressive bikini fairing upfront along with a digital console. The alloy wheels too seem to have a very innovative design and going by Bajaj Auto's emphasis on weight reduction on its new range of Pulsars, they will also be considerably lightweight. The saddle is two-step and the overall riding stance is very street-friendly staying in line with the Bajaj Pulsar's road-worthy credentials of past decade. The under-belly exhaust canister takes cues from the made-in-India for Europe KTM 125 Duke in order to keep the weight centralized to aid handling, not to state the obvious, it also looks presents the bike with radical appeal.
Although the model seen here will be the youngest amongst the new Bajaj Pulsar range, the Indian company already has ready with it higher capacity versions of the same featuring better-spec components developed out of their joint venture with Austrian bike-maker – KTM. While the KTM 200 Duke launch is around the corner, the new Pulsar is not too far away either and with the occasion overlapping the 2012 Auto Expo in New Delhi, expect to see some major firecrackers in the Indian two-wheeler bazaar very soon.