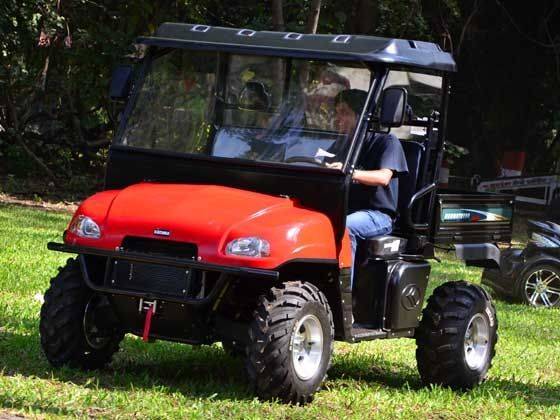 Many of us fancy the idea of actually owning an all terrain vehicle and going where no street legal vehicle has gone before. But considering the way things stand in the Indian ATV market at present buying one of these audaciously priced off road vehicles isn't exactly on our New Year agenda.
That being said there is a growing market for these ATVs majorly driven by adventure sports theme parks and resorts, which gives enthusiasts like us a great opportunity to experiment with these machines on their home turf.
Already catering to this niche market for some time now, Nebula Automotive has just stepped up its game and launched a new range of high-end ATVs for enthusiasts in the country which now increases its product portfolio to 21 ATVs. The addition of the Trike, HS800 and AX700 now stretches the company's off road vehicle range from 110cc Junior/Uniage ATVs to 800cc twin seaters that are better suited for serious ATV enthusiasts.
The most cumbersome looking of the new crop is a three-wheel Trike ATV that features a 300cc water-cooled engine with electric start. Capable of seating two people the Nebula Trike is priced at Rs 7.77 lakh. A better option for those looking for a capable twin seater would be the HS800, that has a 800cc water-cooled V-twin 8-valve engine with fuel injection. Of course all that fancy technology would cost you a pile of hard earned cash, Rs 16.50 lakh to be exact.
Finally you have the AX700 single seater, which features CVT transmission, front and rear disc brakes, a 3-way locking differential and like the HS800 can be operated in 2WD and 4WD modes. Powered by a 686cc liquid-cooled EFI engine the AX700 is an exciting prospect and can be yours for Rs 12 lakh.
Speaking at the launch of these new high-end models, Managing Director of Nebula Automotive, Mr. Sukhdev Asnani commented said, "The Trike ATV and the HS800 will be unique models and we are confident that given their performance and pricing, they will be well accepted in the market." (Read : Interview with Sukhdev Asnani, M.D. Nebula Automotive)
At present Nebula's extensive range of ATVs are used for recreational, sports and patrolling purposes and some of the firm's off road vehicles are even undergoing military testing for future used in the armed forces. On site assistance and strong after sales service should see Nebula rapidly grow in this niche market, where enthusiasm super cedes available infrastructure.