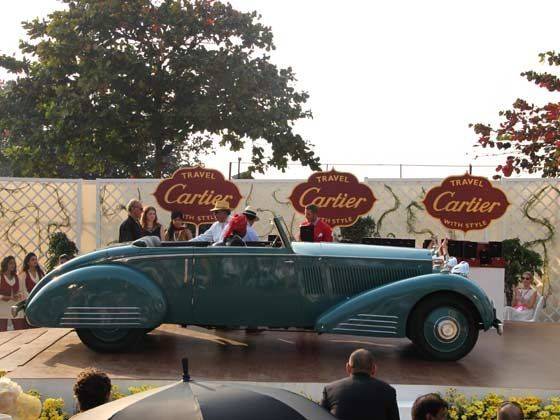 A vintage car exhibition is always a special occasion not only because it showcases the best cars, but also because they act like a time machine taking you back in time to illustrate their glorious past. Then there are the stories. Each car has a special story which the owners love to share and to the ones listening are more entertaining and interesting than any Bollywood masala movie. The third Cartier Concours D'Elegance held in Mumbai on the 10th of Feb 2013 was just that and a lot more.


To tell you about the Cartier Concours, it suffices to say that it is among the world's best four Concours d'Elegance, a one of a kind vintage car exhibition and competition held every two years in India. Curated by the highly respected Indian automotive expert, Manvendra Singh of Barwani and orchestrated by car aficionado and HRH the Duchess of Cornwall's brother, Mark Shand, the Cartier Concours d'Elegance showcases some of the rarest and best-preserved vintage automobiles from across India. This year amidst the opulence of 70 of the rarest automobiles from the esteemed stables of Indian royal patrons and noted private collectors, guests mingled over lunch and high tea at a specially curated exhibition space spread across the lawns of Taj Lands End.


The distinct exhibit culminated with an award giving ceremony hosted by Master of Ceremony Mr. Aland de Cadenet. The Best Car of the Show was Rolls Royce 1935 Phantom II owned by HH Maharaja Gaj Singhji of Jodhpur, and the Best Motorcycle of the show was the 1915 Indian owned by Subodh Nath. Amongst others, the winner of the Indian Heritage category went to the cute little topolino, a 1949 Fiat 500C owned by none other than ZigWheels Editor and Chief, Adil Jal Darukhanawala (Travel with Style 2013 Winners).


The first international Concours d'Elegance in India was hosted at the Royal Western India Turf Club Mumbai in 2008. It was a historic moment in the history of Indian motoring that gained wide spread recognition for ushering in the classic car movement in India. The third edition of Cartier Travel with Style witnessed several exciting additions, taking it a step forward in establishing Cartier Concours d'Elegance as a world renowned vintage automotive exhibit.


Two exciting new automotive categories, Edwardian Class (oldest preserved automotives in India, unique category to Cartier Concours) and the Shikar Class (automobiles used for royal hunts) were introduced, in addition to the pre-established categories, Pre-War, Post-War, Indian Heritage, Preservation and Roadster classes.


An exciting new addition of this year was the introduction of motorcycles. For the first time since its inception in 2008, Cartier 'Travel With Style' exhibited 32 exceptional vintage motorcycles from across India which competed in the three all time favorite classes, Pre War, Post War and Racing.


In a prestigious event like this, the judges are pretty much the prime movers with some of the most important decisions resting on their strong shoulders and as a result one would have nothing but the best of the best when it came to forming the judging panel. And the best of the best they were, with the panel including, chief judge HRH Prince Michael of Kent; Chairman of the Pebble Beach Concours d'Elegance Sandra Button, Fiat Scion and ever-dapper Lapo Elkann, President of Federation Internationale de l'Automobile (FIA) Jean Todt, one of the greatest F1 driver Sir Stirling Moss, Motorcycle Grand Prix legend Giacomo Agostini who holds 15 World Championship titles, 7 time GP Motorcycle Champion Phil Read, award winning F1 designer Prof. Gordon Murray and leading industrialist Sir Anthony Bamford among other notable personalities.
The 2008 and 2011 editions of Cartier Concours d'Elegance were a big moment in the history of Indian motoring, gaining widespread recognition both in India and internationally. It was a true eye opener to the nation's rich heritage and now this association has taken a step further in 2013. With the Cartier Concours now ranked right up there with the best it is only going to get better.
Next Page >> Travel with Style 2013 Winners
TRAVEL WITH STYLE 2013 WINNERS
1)SPECIAL PRESENTATION

JUDGES CHOICE

The Pranlal Bhogilal Collection

Ms. Chamundeshwan Bhogilal

Invicta 1931 S-Class

Owner: KooverjiGamadia
2) PRE WAR CLASSIC MOTORCYCLES

2ndRunner Up

Swift 1910

Model: 550CC

Owner: Diljeet Titus

1st Runner Up

No: 83 Triumph 1936

Model: Werke STM500

Owner: Col. Boppanna Shashidhar

Class Winner

No: 76 Indian 1915

Model: -

Owner: Subodh Nath

3) POST WAR CLASSIC MOTORCYCLES

Runner Up

No: 94 NSU 1958

Model: Super Max

Owner: Prakash Kunte

Class Winner

No:91 Triumph 1955

Model: Tiger 100

Owner: David Fernandes

4) RACING MOTORCYCLES

Runner Up

No: 96 BSA 1955

Model: Goldstar 500 CB34

Owner: Reuben Solomon

Class Winner

No: 95 AJS 1926

Model: 350cc Clubmans Racer

Owner: Jehangir Faroogh
5) CAR DRIVEN THE LONGEST DISTANCE

Winner

No: 26 Buick 1940

Model: 90L Limited

Owner: Ranjit Malik
6)EDWARDIAN CLASS

Class Winner

No: 2 Napier 1906

Model: Type L76

Owner: Princess Esra of Hyderabad

7)PRE WAR CLASSIC

Class Winner

No: 8 Rolls Royce 1935

Model: Phantom II

Owner: HH Maharaja GajSinghji of Jodhpur

8)PRE WAR CLASSIC – ALL WEATHER CABRIOLETS

Class Winner

No: 13 Rolls Royce 1934

Model: Phantom II

Owner: Yuvraj Mandhatasinh Jadeja of Rajkot

9)PRE WAR CLASSICS TOURERS

Class Winner

No: 16Lanchester 1921

Model: 40hp

Owner: Herbertsons Ltd

10) PRE WAR CLASSIC – LIMOUSINES

Runner Up

No: 23Mercedes 1936

Model: 290 Pullman

Owner: Vikram Singh

Class Winner

No: 25 Buick 1938

Model: 90L Limited

Owner: Diljeet Titus

11) POST WAR CLASSIC – AMERICAN

2nd Runner Up

No: 37Studebaker 1956

Model: Flight Hawk

Owner: Captain P.A Bhujwala

1st Runner Up

No: 34 Ford 1950

Model: Custom Deluxe

Owner: Amal Tanna

Class Winner

No: 36 Cadillac 1954

Model: Series 60 Special

Owner: Rita Jain

12) POST WAR CLASSICS – EUROPEAN

Runner Up

No:42Bentley 1951

Model: Mark VI

Owner: Rustom Jeejeebhoy

Class Winner

No: 41 Invicta 1947

Model: Black Prince

Owner: Kooverji Gamadia

13) ROADSTER PRE WAR

+ TECHNICALLY MOST ADVANCED CAR OF ITS PERIOD

Class Winner JOINT

No: 45 & 48

No 45: Fiat 1921

Model: 501 Corsa

Owner: Herbertsons Ltd.

No: 48 Adler 1936

Model: Trumpf Junior Sport

Owner: Samir Kadam

14) ROADSTERS POST WAR

Class Winner

No: 54 MG 1959

Model: MGA

Owner: Shrivardhan Kanoria

15) INDIAN HERITAGE

Runner Up

No: 60 Chevrolet 1947

Model: Fleet Master Deluxe

Owner: Subramanya Venktesh Gupta

Class Winner

No: 61 Fiat 1949

Model: 500C

Owner: Adil Darukhanawala

16) SHIKAR CARS

Class Winner

No: 71 Chevrolet 1951

Model: 3100 Half ton

Owner: Yuvraj Harshwardhan Singh of Dungarpur

17) PRESERVATION

Class Winner

No: 57 Rolls Royce 1930

Model: Phantom II

Owner: Maharaja Udit Pratap Deo of Kalahandi
18) RESSURECTION CUP

Winner

No: 12 Studebaker 1933

Model: Commander

Owner: Viveck

Goenka

19)LADIES JUDGES CHOICE

Winner

Chrysler – VivekGoenka
Honorable mention To Mr Amir Ali Jetha
20) MOTORCYCLE

Best of Show

No: 76 Indian 1915

Model: -

Owner: Subodh Nath
21) CAR

Best of Show

No: 8 Rolls Royce 1935

Model No: Phantom II

Owner: HH Maharaja Gaj Singhji of Jodhpur