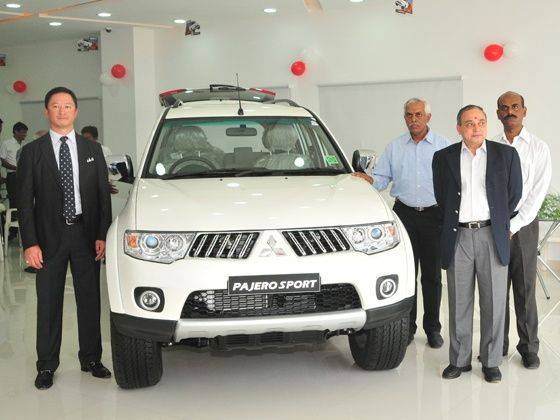 Mitsubishi is association with Hindustan Motors has opened its 42nd dealership in the country in Hyderabad. Spread over 3000 sq. ft the new Mitsubishi showroom is located in Hyderabad at 1-10/4, 1-10/4A & 1-10/4B, Madhapur. HM Mitsubishi has also setup a 12000 sq. ft service workshop located at Jai Hind Enclave in Madhapur that comprises of 12 bays along with a 300-sq. ft section for spare parts business. The workshop has the capability to service 25 cars in a day.
P. Vijayan Chief Operating Officer and Strategic Business Unit Head of HM's Chennai car plant said, "It is indeed a pleasure introducing world class Mitsubishi vehicles to this historic city which has over the years emerged also as a renowned hub of technology and business. We are confident that our vehicles will add a new dimension to the lives of Hyderabadis. No wonder, our latest vehicle, Pajero Sport, has as its tagline the phrase: Go. Play".
Mitsubishi's Hyderabad dealership will be showcasing the Pajero Sport, Montero and Outlander. The dealership employs five personnel for sales and 20 for service.
The Mitsubishi range of cars in India consists of the Cedia Sports, Outlander, Pajero Sport, Montero and the Lancer Evolution X. Prices for Mitsubishi cars in India range from Rs 8.24 lakh (ex-showroom Delhi) for the Cedia Sport to Rs 50.23 lakh (ex-showroom Delhi) for the Lancer Evolution X.
Also read: Mitsubishi Pajero Sport : First Drive