McLaren To Turn On The Heat With A Topless Speedster!
Jul 25, 2019
Views : 2491
---
The sixth model in McLaren's Ultimate Series will be a 2-seater open-cockpit speedster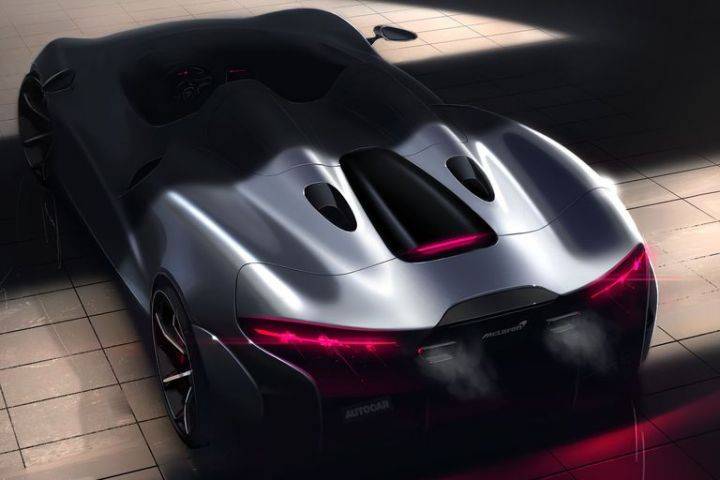 The new model will slot in between the track-ready Senna and the upcoming Speedtail.
It is expected to use the same 4.0-litre twin-turbocharged V8.
It will be a limited-run model similar to the Monza SP1/SP2 from Ferrari.
Modern McLarens aren't particularly the prime paradigms of poster-worthy cars (yes, the P1 is an exception) in contrast to its counterparts from Italy. Woking is more into clinical levels of precision and outright driving dynamics. But, from what we gather now, it seems like the Brits also secretly admire aesthetic beauty. Why do we say so? Joining the McLaren Senna and the Speedtail at the apex of McLaren's lineup will be a completely new two-seater, open-cockpit speedster!

So, the McLaren Senna, staying true to its name, is a race car with number plates. The Speedtail, meanwhile is a hyper GT which is also the spiritual successor to the revered F1. Taking a quick glance at McLaren's short but extremely reputable career, we can see some heroic cars which not only gave the Italians a hard time, but also made them go back to their drawing boards. Now, McLaren is following a different approach and is prepping something special which will focus more on attributes like feel, emotion and beauty.

But, it doesn't mean that it will only look the part, as coming out of Woking, that is the last thing one should expect. We have no clue about the name yet, but going by our wild imaginative superpowers, if the race car for the road was called Senna, this should ideally be called Emily Blunt. The hypercar (if you can call it that) looks absolutely stunning from a set of images and although these are renderings, it is exactly what we want to see in the near future.

There are also reports suggesting the new unnamed speedster will borrow styling cues from McLaren's open-top sports prototype racers from the yesteryears. Are we looking at something like the McLaren M1B Can-Am racer built by Bruce McLaren? Only time will tell.

The new car is developed with driving pleasure as the main agenda and is expected to be dynamically superior with amazing levels of feedback. This paired up with the wind-in-your-hair experience could be motoring nirvana at its finest.
Expect to find McLaren's 4.0-litre V8 twin-turbocharged petrol motor, which is good for around 700PS, inside the engine bay. This engine will obviously be mounted behind the driver and will most likely make use of a carbon fibre tub. Expect a dual-clutch gearbox to transmit all that power to the rear wheels.

The lack of a roof and McLaren's extreme fetish for carbon fibre will most probably result in a kerb weight that is lighter than the Senna (1189kg). There are no second thoughts about this being a limited-run version, but the specific number is not out yet. Neither is the price. The uber-cool Ferrari Monza SP1/SP2 is the closest thing to the new McLaren, although there have been similar cars in the past like the Mercedes-Benz SLR Stirling Moss. Information is scarce as you can see, but just the thought of a beautiful open-cockpit McLaren is enough to keep us going. What about you?
Image Source: Autocar UK
Also Read:
2000PS EV Hypercar Showdown: Pininfarina Battista, Rimac C_Two And Lotus Evija Compared On Paper
How The Iconic Toyota Supra Evolved Over The Years