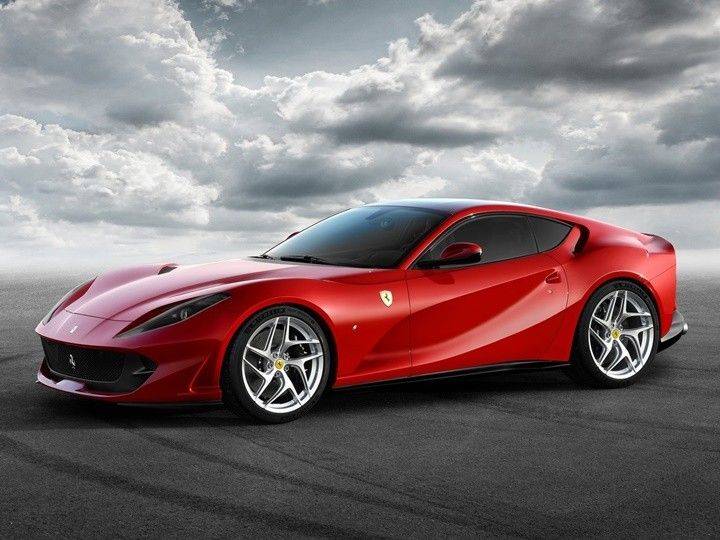 Let's address the elephant in the room. 'Superfast'? Well, it does sound weird, we agree. But, it harks back to the Ferrari 500 Superfast which debuted at Geneva in 1964 (which would've been called the 'Superamerica', but let's not fuss over specifics). There's a bit of history to name.
The new 812 is also a tad special since it marks seven decades of Ferrari V12s. Sadly, this might be the last of the breed we'd see from Maranello. As environment laws get stricter by the minute, the prehistoric naturally aspirated motors have to die. Ferrari has already warmed up to the idea of turbos and hybrids, and we wouldn't be surprised to see the next flagship feature both.
What does it have in store? Well, the good blokes at Ferrari have tinkered with the 6.5-litre V12 motor to make it develop 800PS of power, and 718Nm of torque. It gets done with the 0-100kmph dash in just 2.9 seconds, and can clock speeds in excess of 340kmph. The number geeks will be quick to point out that's 60PS more than the Lamborghini Aventador S we belted around a track a couple of weeks ago.
But, it doesn't look as good as the big bull, does it? Sure, it's a Ferrari; it is bound to grab attention. It isn't particularly pretty, though. Is it because it's been designed in-house at the Ferrari Styling Centre and not Pininfarina? It does look like an evolution of the outgoing Ferrari F12berlinetta, but the design is what most would call 'busy'.
That said, elements such as the quad taillights, the Prancing Horse on the front fender and the signature LED headlamps are all in place, giving it a signature Ferrari look. The supercar also features a special new colour called 'Rosso Settanta' to celebrate the marque's 70th anniversary.
The 812 also features an all-new interior. It gets a new design for the dashboard, which Ferrari claims 'loops stylishly around the central air vents for a sophisticated, sculptural look'. There's a new steering wheel as well with a gamut of buttons to control everything from the indicators to the suspension settings. Speaking of steerings, for the first time ever, the Ferrari features an electronic power-steering. Blimey. Software to keep you alive includes Side Slip Control (SSC), and there's the Virtual Short Wheelbase 2.0 system (PCV) which Ferrari says 'improves the nimbleness of the handling and reduces the vehicle response times.'
The Ferrari 812 Superfast makes its global debut at the 87th Geneva Motor Show. Adieu, F12!