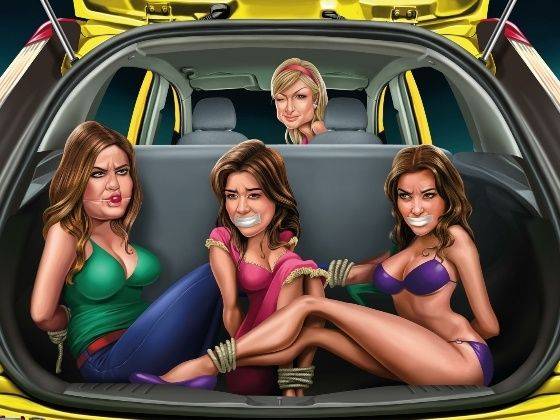 Ford's controversial Figo ads may lead to some legal mess as well. According to media reports in the US as well as in the UK, the Kardashian sisters have gone on record to announce that they are contemplating legal action against the ad. The series features cartoons of reality star sisters Kim, Kourtney and Khloe Kardashian apart from Paris Hilton in one ad. Ford India has already publicly apologized for the ads. The 'unapproved' posters were created for Ford India by JWT and feature a series of three cartoons - one of former Italian prime minister SilvioBerlusconi, another of celebrity Paris Hilton and a third of race car driver Michael Schumacher. All three posters have gagged and bound hostages in the boot of the car.
The 'scam ads' have created uproar although they have never been used. JWT, which handles the Ford account across the world, has said that the ads were not meant for paid publication and should "never have been created let alone uploaded to the internet". In a statement, parent WPP said: "We deeply regret the publishing of posters that were distasteful and contrary to the standards of professionalism and decency within the WPP Group." A Ford spokesperson earlier this week also apologised saying that the posters were "contrary to the standards of professionalism and decency within Ford". The company is currently looking into whether the offensive posters had been seen by anyone at Ford.
Despite the regret statements from both the agency and the company the Figo ads continue to hog headlines across the world for all the wrong reasons. The Kardashian attorney was quoted in European and American media saying that the sisters are not taking this lightly and will pursue legal options. Ford reps globally have already distanced the company from the fiasco saying the posters were concepts and were neither commissioned by Ford nor approved by it.
Also Read: New Ford Figo First Drive