JDM Unicorns That Won't Even Pop Up In Your Dreams
Mar 10, 2020
Views : 1052
---
These are not your average GT-Rs, Lancer EVOs or Imprezas...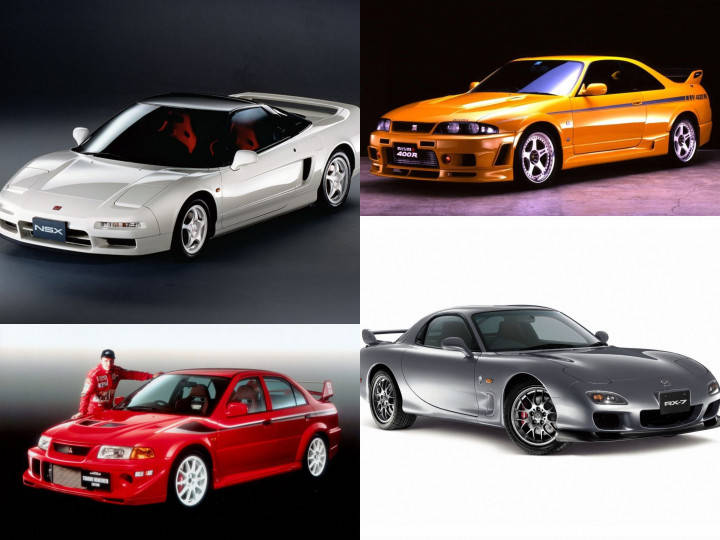 ...because they are as rare as hen's teeth. I've said this before and I'll say this again -- the Japanese are the coolest people in my books. The reason for my affection towards Japan primarily stems from the love for anything JDM. Mocked by the whole world for producing "soulless" and "boring" cars, the Japanese go out of the line once in a while and make drool-worthy cars that make us go weak in the knees. The recent example of something like that would be the super-cool Yaris GR. Iconic names like Supra and GT-R are etched into the minds of every other petrolhead on this planet. But there are some lesser-known, absolutely brilliant, JDM unicorns that you probably might've never heard of before. We can't blame you either since these cars are so rare that they won't even pop up in your dreams:
Mitsubishi Lancer Evolution VI TME

If you're wondering, TME stands for Tommi Mäkinen Edition. Yes, In 1999, Mitsubishi came out with the TME to commemorate the ace Finnish driver's fourth consecutive Drivers' Championship in the World Rally Championship. Subtle refinements to the mechanicals made sure that the EVO 6 TME was arguably the best Evolution to ever roll out of Japan. For the car geeks reading this, a high-response titanium turbocharger was added to the legendary 4G63 2.0-litre engine (282PS/343Nm) along with a quicker steering rack (like it wasn't quick enough already), a revised suspension, a front strut tower bar, and a new muffler. Differentiating it from the usual EVO 6 were some tasteful cosmetic changes like new bumpers, WRC decals, TME badges and 17-inch white Enkei wheels which are borderline NSFW, especially with the Passion Red paint. The EVO 6 TME was also available in two trim options: GSR and RS.
Honda NSX-R

The NSX needs no special introduction as it is one of the finest sports cars and one of the best cars to ever come out of Japan. Now, how do you make an already light and stellar mid-engined sports car even better? Don't overthink and leave that to Honda's Type-R division. What resulted after some tinkering and extreme fetish for weight saving is the NSX-R -- one of the best handling cars in the world! What makes the R special is the basic formula of lightness. There's' no sound deadening, audio system, spare tyre, air-con or traction control. It also featured carbon-kevlar Recaro seats with lightweight Enkei rims. All of this coupled with the inherent lightness of the NSX resulted in a kerb weight of 1230kg. Last but not the least, the high strung 3.0-litre V6 VTEC engine got a blueprinted and balanced crankshaft assembly coupled and a revised gearbox for some extra oomph. Under 500 units of the original NSX-R were produced while later in 2002, Honda gave us the NSX-R a facelift featuring a bored-out 3.2-litre V6 engine.
Subaru Impreza 22B STi

Yes, another one from the glorious days of WRC. Based on the GC8E Impreza, Subaru launched the 22B STi to commemorate its 40th anniversary and its third consecutive manufacturer's title in the World Rally Championship. The 22B was so mental that all 400 units destined for Japan were sold out in under an hour! But a handful of extra cars (under 50 units) were made for other markets, specifically the UK and Australia. Now, the best thing about the 22B STi is in its name. The EJ22 motor was a bored-out 2.2-litre version of the EJ20, producing 280PS of power and 363Nm of torque (come on, we all know that's a lie). Clad in a special blue shade with gold wheels, fender flares, and a three-door attire, the 22B meant serious business. Given its cult status and rarity, it's extremely hard to find one for sale today. And even if you do so, it definitely ain't coming cheap (close to Rs 1 crore).
Mazda RX7 Spirit R

The RX7 Spirit R was the last ode to the RX7 and the most sought after version. It gained all the updates from the versions that came before it. Limited to 1,500 units, the ultimate version of the rotary-powered RX7 was offered in three variants: Type A, B and C. Type A was a two-seater coupe equipped with a 5-speed manual version. The B was a 2+2 version while the C, too, was a 2+2 but with an automatic gearbox. More than half of the cars were produced in the special Spirit R Titanium Grey colour. However, the 1.3-litre two-rotor 13B motor remained the same with on-paper figures of 276PS and 314Nm (another lie). Other special bits included Blistein suspension, red recaro seats, big cross-drilled rotors, steel lines, and a sweet looking 17-inch BBS wheel. Unlike its Japanese cousins, the Supra and the Skyline GT-R, the RX7 was more of a katana than a cleaver.
R33 Nissan Skyline Nismo 400R

The Skyline GT-R has to be one of the most loved and popular JDM cars out there. But it is only when you dig deeper that you'll come across a gazillion types of special editions such as the V-spec, V-spec II, M-spec, and N1. But the ultimate holy grail and unicorn of them all came out with the R33 generation. Nissan, with the help of Nismo, created the 400R. For starters, it didn't feature the bulletproof RB26 motor but something even more wicked. Dubbed the RBX-GT2 (what a cool name!), it got upgraded rods, polished ports, high lift camshafts, upgraded oil system, larger exhaust manifolds and higher output turbochargers. Long story short, the engine developed 400PS and 470Nm, allowing it to reach 300kmph. The story doesn't end there as Nissan also added aero bits such as wider bumpers, side skirts, a redesigned bonnet, 400R decals and a rear spoiler made out of carbon-fibre. Nismo intended to make 100 units but the number stood at 44 when the production of the R33 ended in 1998.
Other notable unicorns from the Skyline lineup include the R34 Z-Tune (the last skyline GT-Rs), R33 LM Limited and some ultra-rare V-Spec editions.
Add Your Comments