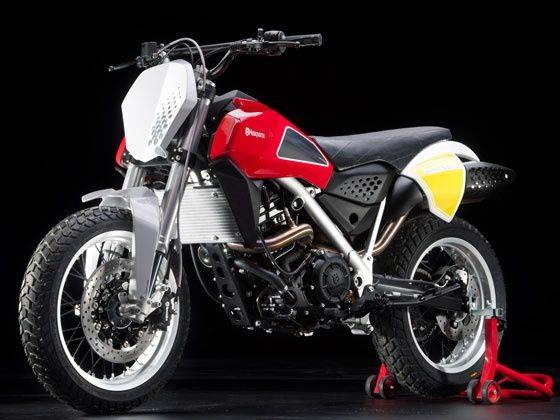 Swedish motorcycle company, Husqvarna, currently owned by BMW, displayed its MOAB Concept at this year's EICMA motorcycle fair held in Milan. A modern-day take on the scramblers, the MOAB concept brings fore Husqvarna's long-standing tradition of exciting scrambler and off-road motorcycles. Named after the legendary Moab desert in Utah, the MOAB concept celebrates the huge turnout the desert witnesses every year. The classic-looking red fuel tank with a flat long seat is joined by the time-honored yellow number panels on the sides. Trail-riding friendly ergonomics with an upright seating posture and tall handlebars are a norm on scramblers and they make their way onto the MOAB concept as well.
The MOAB employs a progressive linkage swingarm and 17-inch wheels on both ends shod with semi-knobby tyres for off-roading. The concept is a fine mix of classic scrambler design mated to today's technology like the upside-down front forts handling the suspension duties and the advanced 650cc motor packaged inside a perimeter frame. On the design front, the under-seat side-slung exhaust neatly carries forward the classic-scrambler style complete with a vintage-looking drilled heat shield. The paint scheme too is inspired by Steve McQueen's iconic H400 motorcycle made popular by the charismatic actor.
Husqvarna has picked up good steam in recent times churning out impressive products and gathering solid response from the industry. With this new concept that was unveiled at the 2011 EICMA show, the brand has once again shown its expertise and class at making promising off-roading motorcycles.
Husqvarna MOAB Concept Gallery: