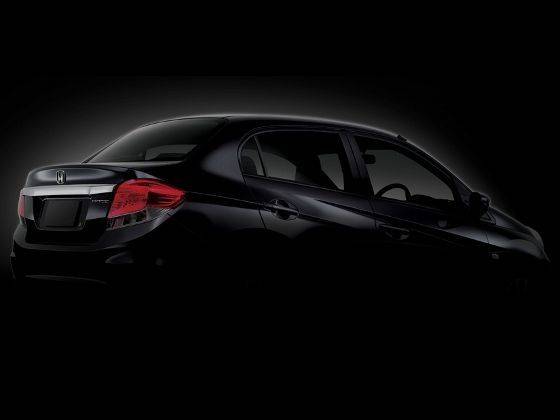 Honda definitely has some big plans lined up for India in the near future. As Adil had explained in his article last month, (Honda chalks out fervent plans for 2013, early 2014), the Japanese auto giant plans to launch a brand new version of the venerable City by 2014. But the news that everyone is buzzing about at the moment is Honda's new 1.6-litre i-DTEC diesel engine, which already having debuted in Europe this year, will come to India in one form or another across a number of cars. And the first car to receive this new diesel motor, albeit possibly in a lowered cubic capacity (which rumour has it hovers around the 1.5-litre mark), will be a compact sedan based on Honda's Brio hatchback.
The Brio-based sedan which will be making its debut in India by 2013 has just been teased on Honda's Thailand website. The teaser image shows off the rump of the new car and you can already see some of the City's DNA infused in the Brio sedan's design. The teaser site doesn't contain much information apart from the above image and a link to a YouTube video, which for the most part is incomprehensible, but gives us an impression that the car might be aimed at young buyers. But then again, that's not much to go on as Thais, as most East Asians, almost always look deceptively younger than they actually are.
Rendering: Muntaser Mirkar / Photography: Kunal Khadse
The one bit that is legible on the special preview site is '1.2' and a little i-VTEC badge on the car's bum, which is a good indication that the Brio sedan will be powered (for now, at least) by its sedan sibling's 1.2-litre 88PS i-VTEC petrol motor. This motor should do just fine considering how Honda is very meticulous about keeping its car's weights nicely on the low side, but expect a slightly different state of tune for both the engine and the gearbox. No official word as of yet on the 1.5-litre diesel motor that is expected, but word is that this engine is being specifically developed for the Indian market and will be manufactured locally as well as exported out. And it's safe to say that the Brio sedan will also offer the automatic gearbox option that Honda debuted on the hatch just a little while back in India.
Expect the manual gearbox petrol version of the Brio sedan to be priced between Rs 5 and Rs 6.5 lakh, which will put it bang in the crosshairs of not just the Maruti Suzuki Dzire, but also the Tata Indigo eCS and the upcoming shortened Mahindra Verito.