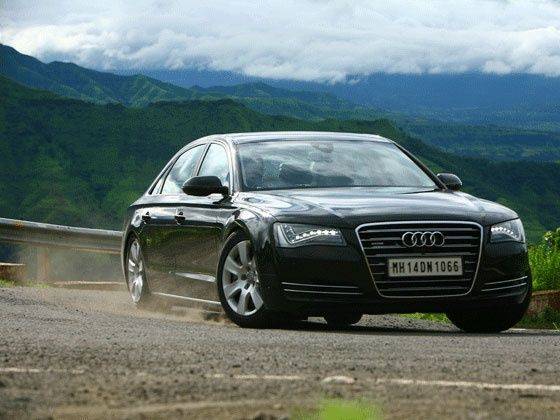 Super luxury cars such as the Mercedes Benz AMG, Jaguar XJ and Audi R8 are flying off the shelf, with several models running out of stock as customers rush to beat an impending price increase of about 25% from April 1.
The budget decision to increase import duty on fully built cars costing more than $40,000 (approx Rs 22 lakh) to 100% from 75% has made affluent Indians line up for their dream machines, bringing a minor but much-needed movement in a static Indian car market.
"We have seen high traction for our sedans and our award-winning M-Class SUV that now enjoys a waiting period of four months," Eberhard Kern, MD and CEO at Mercedes-Benz India, said.
According to industry estimates, the country has sold 750-800 super luxury cars in March, more than double the monthly average of 300-350 imported vehicles. Buoyed, the luxury carmakers are now hopeful of maintaining this traction next year as well despite steep increase in the prices of imported vehicles.
"Going by the current market trend, we expect to maintain the positive growth traction rest of the year with some fascinating product launches lined up," Kern said, although he agreed that the price increase will be the highest for select models. Mercedes Benz SLS AMG, for example, is expected to cost Rs 50 lakh more from Monday (see graphic. The development clearly suggests that despite the overall slowdown in economy, the country's wealthy are willing to splurge on high luxury if there is good value proposition.
And the industry is hopeful that the momentum will help revive the Indian car market, which may record its first annual sales drop in a decade this fiscal. A Delhi-based Jaguar Land Rover dealer said: "We are sold out on all imported models like the Jaguar XJ, Range Rover, Discovery and the top-end Range Rover sports. Customers are advancing their purchases to enjoy the dual benefit of depreciation in March along with the pre-budget prices that has already swept our entire inventory." Yadur Kapur, who retails BMW and iconic British brands like Mini, Aston Martin and Rolls-Royce in India, said most niche models have run out of stock. "In March, it's the imported models that are really moving the traffic," he said.
Audi, which is on the heels of market leader BMW, said it is poised to record its best monthly sales in the country since its entry in 2006. "Thanks to some instant sales of the imported vehicles, we would be posting the best ever sales in India," an Audi official said. The Volkswagen group firm had posted 29% jump in February when it sold 775 cars. "The stupendous demand in March for our imported cars has increased the waiting on these machines - which will now flow into the next fiscal year," the Audi official said. Finance companies and banks that offer car loans say automakers' coffers are full with some hectic buying in expensive segments since the budget announcement on February 28. "Our finance disbursements for March have been the highest to customers and dealers," a senior executive of HDFC Bank said. "The benefit of buying cars and SUV at almost 20-25% cheaper rates has acted as huge incentive to advance any purchase decisions."
The minor aberration in the luxury car market has somewhat improved the sentiment in the overall auto industry reeling under the worst performance in 12 years.
Till February this fiscal, the overall domestic passenger vehicle sales increased just 4% while sales for high-end luxury cars and SUVs soared 16-18%, according to Society of Indian Automobile Manufacturers. With luxury carmakers ending the fiscal year on a high, other carmakers too are hopeful of luring customers back to their showrooms in the new fiscal.
Also read: Budget 2013: The Auto Industry Speaks Up