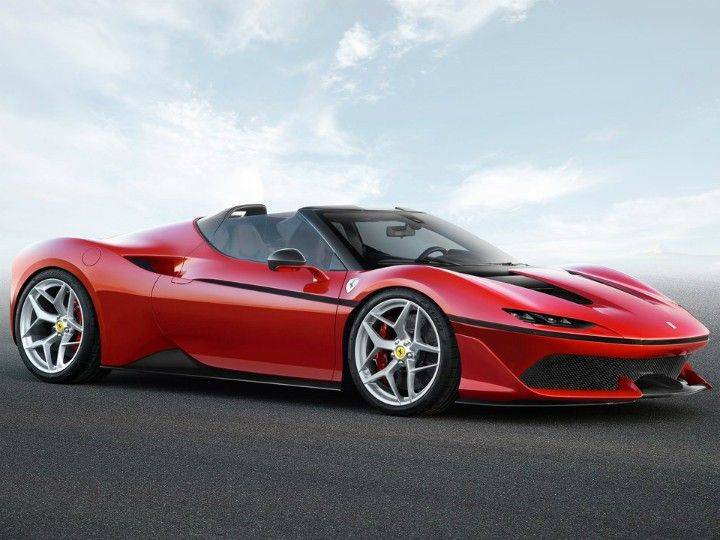 To celebrate the 50th anniversary of Ferrari in Japan, the Italian giant has revealed a magnificent limited-edition supercar, the J50, at the National Art Centre in Tokyo. The car will be limited to just 10 units and will be customised according to every owner's taste. And yes, just to give you a heads-up, all 10 units have been sold.
Powering the J50 is the same motor that is found on the 488GTB Spyder. But the 3.9-litre twin turbo engine in the J50 is tuned to deliver slightly more power, i.e., 690PS of power and 760Nm of peak torque. Power is transmitted to the rear wheels and the car can catapult from 0-100kmph in just three seconds.
Speaking about the design philosophy, the car has got an all-new bodywork, which makes the J50 look futuristic. The carbon fibre air channels on the bonnet make the car look more aggressive. The front features two horizontal LED slit headlamps, while the radiators have been positioned closer together. The sloping windshield just merges into the frameless windows, which makes the car completely aerodynamic.
At the rear, the massive engine can be seen through a transparent polycarbonate cover, while the quad taillights are reminiscent of the F430. The rear diffuser features an extractor shape which seems to take its inspiration from the jet engine's afterburners. It also gets uniquely styled, forged 20-inch wheels which have been crafted especially for the limited-edition car.
On the inside, the cabin features sporty seats and also includes a carbon-fibre Targa hard top which is divided into two pieces that stow conveniently behind the seats. The car also features a special shade of three-layer red with a red and black interior decked in fine leather upholstery and Alcantara.