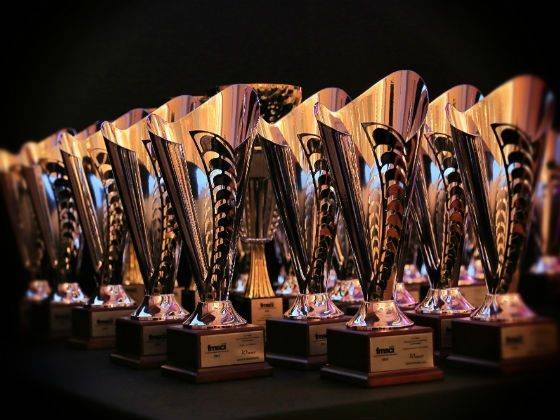 The Federation Motor Sports Club of India has now completed 40 years and celebrated it with a gala dinner along with its Annual Prize Giving Ceremony where winners and champions from various disciplined of motorsport were felicitated.
Former FMSCI president and its only surviving founder Bharat Indu Chandok, father of Vicky Chandok, received a standing ovation and gave a brief speech to commemorate the occasion. He said "I am the only surviving founder. The others have left us and formed a reception committee up there for me. The FMSCI has grown over the past four decades and I am happy to note that it is progressing in the right direction."
President Vicky Chandok felicitated the winners of the Indian National Rally Championship for four-wheelers, Dirt Track National, Indian National Motorcycle Racing, National Supercross, Indian National Rally for four-wheelers, National Rotax Max Karting, National Racing, Indian National TSD Rally for four-wheelers and Indian National Autocross.
INRC 2011 winners Gaurav Gill and Musa Sherif were also felicitated along with special awards which were given to Sameer Gaur, Managing Director of J.P. Sports International Ltd. (Organiser and Promoter of F1 India GP 2012), Vivek Ponnusamy (FIA Asia Pacific 2-Wheel Drive Cup for Co-Drivers) and Jehan Daruvala (FIA CIK Asia Cup Karting Champion).
FMSCI was formed in 1971 and was recognized as a Private Limited Company in 1973 and was affiliated to the Federation Internationale de l'Automobile (FIA) in 1979 and Federation Internationale de Motocyclisme in 1986. It was until 15 years after its inception when it was recognized by the Indian government as the sole authority to control, regulate and conduct motorsport events in India.
While the FMSCI has a total of 133 member clubs today, The Madras Motor Sports Club, the Bangalore Motor Sports Club, the Calcutta Motor Sports Club, the Coimbatore Auto Sports Club and the Indian Automotive Racing Club were the founder members since 1971. Mr. K.V. Srinivasan was the first president of the organization with Percy Ghyara as its founding secretary.
From Karting to Rallying to Formula Racing, the FMSCI has now spread its tentacles into various disciplines of 2-wheel and 4-wheel of motorsport in the country and has come a long way in these 40 years.
"It has grown leaps and bounds. This awards gala was to commemorate all the people who have made it possible. We are in a very important era of motorsport in the country and it is crucial that we build from here. We also wanted to honour the winners from the different categories of motorsport in the country from last year and we hope to have a bigger and better year of in 2013" said Vicky Chandok, President of FMSCI.