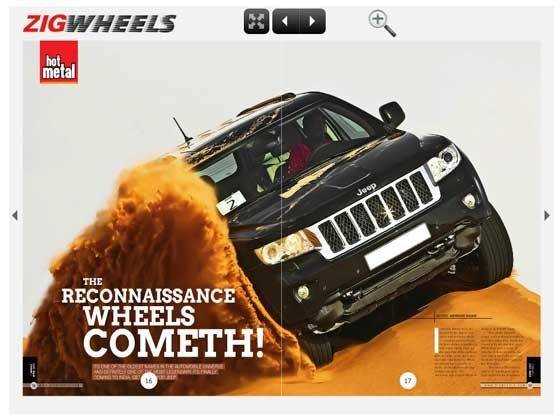 In early April this year we were among the first to break the news to you that Fiat, which has been in possession of the Jeep brand for a few years now had clear ambitions of introducing its legendary off road vehicles here in India (Read : Jeep all set to enter India).
Well the officials from the Fiat-Chrysler camp have conferred and as we see it there's more to Fiat's long-term goals for the Indian market than we could have ever anticipated. Not only have they taken the onus of introducing the iconic Jeep Wrangler and the fourth-generation Jeep Grand Cherokee on our roads by the end of 2013, but also have some ammunition of their own which will see reload over the next few years.
Domestic production expansion plans include the new Fiat Linea classic edition and a newer Fiat Punto edition, not to mention the Italian giant's venerable sports car arm Abarth, which also may see one of its models grace our streets in the near future.
Looking forward to the arrival of the iconic Jeep brand on Indian shores, Enrico Atanasio, Managing Director of Fiat Group Automobiles India Private Limited said, "With the launch of the Jeep brand, new Fiat products, an expanding dealer network and upcoming marketing initiatives, we will be in a strong position to capitalize on this growth."
Once launched in late 2013, Jeep vehicles will be sold via a Jeep dealer network that will leverage the service and parts support offered by an expanding Fiat dealer network. "Our vision for India will revolve around a three-pronged strategy," said Mike Manley, Chief Operating Officer for Asia and President and CEO – Jeep Brand.
The first step will be the launch of new vehicles from Jeep here in India. Second, the expansion of its independent dealer network and, finally, marketing initiatives that would strive to improve its brand recall among Indian customers.
Jeep vehicles will be distributed at launch in metropolitan cities through exclusive outlets utilizing infrastructure created by the FIAT exclusive dealers. Part of the dealer experience will include Fiat Caffes, two of which are already in operation at New Delhi and Pune. The service centers within these dealerships will be another important touch point for consumers.
2013 JEEP WRANGLER